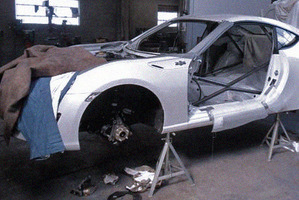 This mystery image arrived in our email inbox this week, and it looks suspiciously like a new Toyota 86 undergoing some serious modifications.
By the look of the roll cage - which would not be road legal unless it was intended for some track or forest duties - the car is being prepared to race.
A Targa model has been rumoured recently but this looks a bit more serious.
Driven tried to contact Toyota's John Fowke, who is also responsible for much of the Toyota Racing Series, for a comment on what is happening.
We were told: "He's out of the country at the moment and unavailable for comment".
We next called Bob McMurray, who has had a long association with the TRS championship and is a former McLaren F1 team member, for his thoughts.
He said, "That's news to me ... [But] the 86 would make a nice little race car."
The consensus appears to be that, in the words of Francis Urquhart of The House of Cards, "You may very well think that, but I couldn't possible comment."
Watch this space, Driven will continue digging.