This limited-edition GT3 is sure to be appreciated by a lucky few car collectors.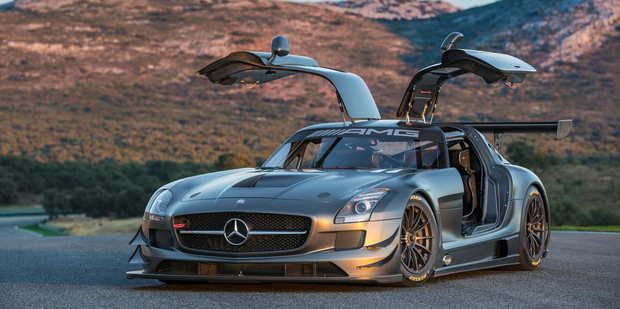 Hot on the heels of waving around its chromed-up electro-supercar at the Paris Motor Show, AMG is aiming its latest toy at car collectors with a taste for racing - even getting a star driver to fit the engine.
It's one of the best-looking racecars of modern times, but this 45th Anniversary limited edition version of the SLS AMG GT3 - despite still having the savage 6.3-litre AMG V8 on board - is destined to be little more than a show pony for the overly moneyed. Only five have been built, carrying a €446,250 ($702,600) sticker price.
The success of the real GT3 deal, which has more than 30 victories around the world under its belt for the 2012 season, puts the limited machine in good stead to appreciate in value.
It is essentially the same gull-wing racing machine, although it will be finished in "designo magno graphite" matte paint, which was previously exclusive to the SL65 AMG 45th Anniversary model unveiled at this year's New York International Motor Show. It will be fitted with AMG light-alloy wheels also finished in magno graphite.
The doors feature a "45 years of driving performance" logo. Mercedes says that under close inspection the doors' carbon structure is visible under the matte paint. Super lightweight CFRP (carbon-fibre reinforced plastic) is used on the doors, guards, boot lid, rear wings, front and rear apron, front splitter and rear diffuser.
The carbon-fest continues on the inside, with the rollcage colour-coded to the exterior, and the dash and console finished in matte carbon fibre. There is, of course, a "1 of 5" logo on the seats.
AMG ambassador and five-time DTM champion and FIA GT champion Bernd Schneider actually helped fit the engine to these very limited machines, and there's an AMG engine badge with his signature and that of the AMG engine fitter.
And just in case the lucky owners don't want to go to the effort of walking from their main house to their private car museum to show off their SLS AMG GT3 45th Anniversary models, there's a special ownership certificate, also signed by Schneider.