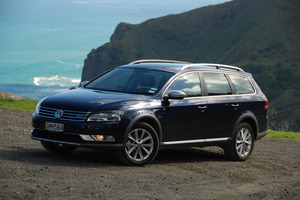 What is it?
VW's Passat Alltrack, a high-riding four-wheel-drive wagon competing with Subaru's Outback and Skoda's Scout.
With 165mm ground clearance, changes to the bumpers to improve approach and departure angles, and an off-road button to alter the diff locks, accelerator mapping, stability control and ABS, you can take it into the rough. Fortunately for this elegant body, most buyers will stick to tarmac or gravel.
We like
The 2-litre 125kW/350Nm turbo-diesel is punchy yet refined and frugal, and Alltrack handles more like a comfy car than a high-riding crossover.
We loathe
There's not much to loathe except the $59,500 price, a nudge above Outback and well over the plainer Scout.