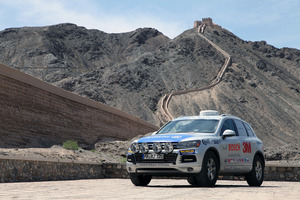 A Volkswagen Touareg has set a world record, driving from Melbourne to St Petersburg, Russia, in just 17 days.
Adventurer Rainer Zietlow and the Challenge4 team took exactly 17 days, 18 hours and 49 minutes to make the journey, driving non-stop in the Touareg V6 TDI.
After arriving on August 13, Zietlow says he was "exhausted, but over the moon" after driving more than 23,000 kilometres through nine countries: Australia, East Timor, Indonesia, Malaysia, Thailand, Laos, China, Kazakhstan and Russia.
Limited extra equipment, such as an enlarged fuel tank, assisted the Touareg to perform extremely well under challenging conditions.
"The Touareg delivered peak performance despite the poor quality of diesel in the Asian countries," said Zietlow.
The unpredictable road and weather conditions in Indonesia initially added one and a half days to the planned duration of the journey, yet the team set a record for crossing the island state in just over five days.