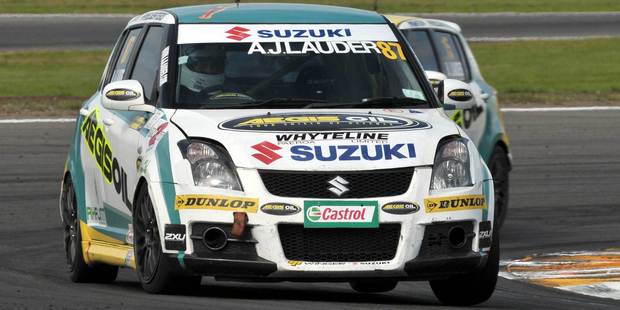 Just when you thought it was safe to go back into the motorsport kitchen, things have boiled over again.
After months of infighting, legal threats, figure pointing and bad blood, MotorSport New Zealand and V8 SuperTourers are working together.
But one of the support classes, the Suzuki Swifts, has been pulled into the vortex of disruption with both factions saying the little pocket rockets will be on each other's dance cards.
Paul Burborough, the Suzuki Swift Sport Cup co-ordinator says, "New Zealand's top-selling small car will make a return to the racing calendar with the confirmation of Suzuki Swift Sport Cup series as a support category to the six-round V8 SuperTourer championship in 2013.
"The Suzuki Swift Sport Cup is an entry point for aspiring drivers who wish to make a career of competition. And alongside our existing backers like Castrol we can continue to offer valuable scholarship packages to bring the cream to the top and on to the bigger categories such as the V8 Challenge Cup and ultimately, V8 SuperTourers."
At the same time MotorSport New Zealand announced, "MotorSport NZ is now in a position to declare a championship for Suzuki Swift Sport Cup cars. This top-class category joins the NZV8s and Toyota Racing Series championships visiting race circuits throughout the country over the summer months."
MotorSport NZ president Shayne Harris said, "It is imperative we protect MotorSport NZ's championships - winning a NZ championship is the pinnacle for our up and coming racing stars and it's important we have these titles available."
But the Suzukis won't be doing double duty and racing in both series.
"It's imperative I clarify that the Suzuki Swift Sport Cup will be racing as part of the six round V8 SuperTourer series in 2013 and beyond," said Burborough.
He might just have the last say as the Suzuki Swift Sport Cup is run solely by a team Burborough has put together with support from Winger, Suzuki New Zealand and Castrol to run Suzuki's only endorsed car racing category.
Note the use of the word "endorsed". Might make it a bit difficult for MSNZ to claim their series is the "sanctioned" one.
"Suzuki Swifts have gone to SuperTourers but they can't take their national championship with them because the championship is owned by the sport," said MSNZ general manager Brian Budd.
"What we've done is declared there will be a Suzuki Swift championship and if some of the guys who have Suzuki Swifts want to come and play, they can for a championship.
"As I've said before, those classes that go to SuperTourers can't run as national championships.
"We own the rules etc and are quite entitled to declare a championship for those cars [Suzukis]. And Suzuki have no problem with us using Suzuki or Swift. The Suzuki winner will be like the Formula Ford winner, a national champion."