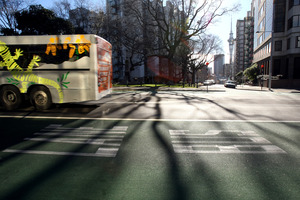 Bus lanes. Photo / Dean Purcell
I need clarity. Can you please tell me what the rules are in the Super City regarding motorcycles travelling in the bus lanes? Is there one rule that applies to the whole city?
Ben Goodwin, Auckland.
Auckland Transport, the body responsible for Super City transport issues, has this on its website:
A transit lane is reserved for the use of the following (unless specifically excluded by a sign installed at the start of the lane):
Passenger service vehicles (buses).
Motor vehicles carrying not less than the number of persons (including the driver) specified on the sign (for T2 and T3 lanes).
Cycles, motorcycles and mopeds
Further information is available in the Road Code in the section on special vehicle lanes.
And a bouquet, for a change. Margaret Spencer of Remuera writes: "Since January there have been major road works taking place at the eastern end of Orakei Road. We were warned that the job would take a full 6 months and it has.
"They built a new bridge alongside the existing bridge, then knocked the old bridge down. This is a busy intersection and the impact has been remarkably minimal thanks to the courtesy of the drivers as well as the amazing job done by the contractors. There have been a few moments when the pedestrians have had an anxious time, times when rain has made for dramatic flooding and bumpy patches but overall a wonderful job. Congratulations workmen."
I have wondered for a long time about the rate of road accidents that occurs as a possible result of the majority of vehicles being grey or black. I know I have had some near misses as a result of these road-coloured vehicles when I have been going to pull out of a side road and there is a grey car coming that I didn't pick up immediately. It is never mentioned anywhere, but why are most of the cars grey, black and other dull colours similar to road colours? The only reason I can think of is that these paint colours are cheaper. Shona Billings, Auckland.
I took a quick look around a local supermarket car park and found that the most common car colours are black, grey, silver and white.
A semi-scientific survey I discovered online said dark coloured vehicles are difficult to spot at night and light-coloured ones hard to see in daylight. Silver is a safer option because of its reflective qualities.
An Australian study of 1000 cars showed that white, blue and red cars were involved in similar numbers of crashes.
Pink cars, apparently, are the safest option of all, but that may be because of their rarity.
I'm not aware of a price differential between car paint colours other than a special finish on a vehicle that requires more than the usual number of coats of paint.
I think we should choose rainbow-hued cars. It would at least make traffic jams brighter.