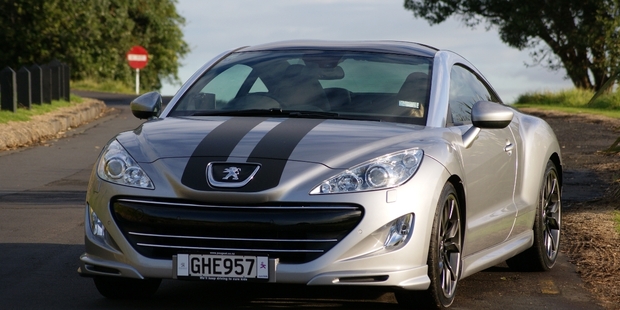 It seems unkind to criticise this Peugeot RCZ. It's a limited-edition model with 19-inch alloys, matte stripes and a full body kit that supports Cure Kids, a charity Peugeot New Zealand has supported since 2010.
Cure Kids funds research into life-threatening childhood illnesses in New Zealand to the tune of $29 million over the past 35 years. Buy one of these bespoilered RCZ coupes (there are 10 available) and Peugeot will donate 1 per cent of the purchase price - that's $649.90 - to Cure Kids. If you want, you can even hand over the cheque yourself.
So it's a good cause. But is it still a good car, the RCZ, now that the novelty of its mini-supercar styling and that unique double-bubble rear window have worn off?
Well, despite the dramatic look, it'll never be a bespoke sports car. It owes a lot to the 308 hatchback underneath, although the suspension is different and it's quite a bit lighter.
It all depends on your expectations, but the RCZ remains a pretty credible coupe considering its humble engineering origins. The six-speed manual is the one to go for because it not only has that three-pedal gearbox but also a 147kW version of the car's 1.6-litre turbo engine.
For reasons known only to Peugeot, the six-speed automatic (tested here) is downgraded to 115kW and feels far less exciting as a result. You also miss out on acoustic enhancements to the engine note, a sporty steering wheel and bigger brakes. The two are the same price, by the way. Still, driving home in the RCZ automatic - a car I haven't driven since its launch in 2011 - I was struck by how good it felt. Nice weight to the steering, assured chassis responses and the outstretched seating position felt just a little pseudo-supercar-special.
It's an impressive job from some familiar base stock, although the RCZ is still strongest on style. The profile owes a little too much to the Audi TT but, in this colour scheme, the aluminium roof arch caps look great and the automatic boot spoiler - which rises in two stages, at 85km/h and further at 155km/h - is certain to impress the suburban set, because you can also raise it at the touch of a button, at any speed.
Don't diss this RCZ, because it's for the kids. It's an impressive little coupe in many ways. Not as hardcore as a Mini coupe JCW, but that could be considered a good thing because it's less exhausting.
However, there's a major problem looming for the Peugeot in the shape of the Toyota 86. We're talking about a bespoke rear-drive coupe priced from just $41,986. Peugeot RCZ money will buy you the bells-and-whistles $63,486 Toyota Racing Development (TRD) special-edition version. Mature, but by all accounts absolutely magnificent to drive. The Toyota 86 is very much one for the grown-ups.