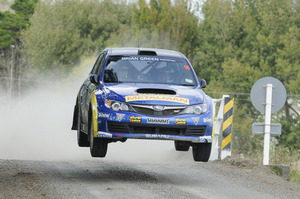 A vast amount of focus for this weekend's Brother Rally New Zealand, round seven of the FIA World Rally Championship, will be on the overseas drivers.
When eight-time world champion Sebastien Loeb is in town, it's only fair he and his fellow world campaigners get the lion's share of attention. Loeb may generally be regarded as the best exponent ever on dirt roads, but a few Kiwi drivers have other things on their minds. Namely the NZ Rally Championship, of which this event is round four. All the Kiwi drivers will be chomping at the bit to compare themselves to the dirt blasters from overseas, but their main focus will be on getting points for the national title.
Defending NZRC champion Richard Mason moved into the lead of the Brian Green Property Group-sponsored series after a wire-to-wire win at Rally Otago. Winning both legs earned him and his co-driver wife, Sara, maximum points. They also set the quickest time in the power stage to earn three more bonus points.
Mason now has 90, 20 ahead of Emma Gilmour in second place and a further 19 points ahead of Alex Kelsey.
The victory moved Mason to within one of three-time NZ rally champion Neil Allport's record of 22 round wins.
"We'll be planning on extending our lead in the championship, obviously, and also trying to get a top 10 finish for the rally and first in our class," said Mason. "The production world championship is here and there's a few cars doing that, so we'll be seeing how we go against them."
Even though Mason has a bit of a buffer on the chasing pack, it's a long rally over some of the fastest gravel roads in the country so he'll need to be on his guard.
"My philosophy is always to keep an eye on everybody and don't discount anyone. Our lead in the championship is pretty good and the points system has changed, so 20 ahead is quite significant now."
A lot of drivers in the domestic title hunt have shown damn quick pace in the previous three rounds. Chief among them is Gilmour, who has come oh so close in the past to winning her first NZ championship.
She's finished runner-up in the past two years to go with her second place series finish in the Asia Pacific Rally Championship in 2009, and has been the world number one ranked female rally driver.
Gilmour is fired up to take that national trophy. However, she had a bit of a hiccup in the opening round of the championship at Whangarei, which she and her team hope doesn't recur.
"To be fair, it hasn't been a bad start to the season but it hasn't been a great start, either," says Gilmour. "To be second in the championship considering everything isn't too bad, I suppose. I would have liked to have won in Whangarei and we might have without the puncture. That's motorsport, unfortunately, and as much as I'd like to be in front of the championship now, it's where you are at the end of the season that really counts."
Gilmour has done well before at the world rally championship, finishing second in the production world rally class last time the WRC was here in 2010.
"I like the roads up there in the North Island and feel comfortable on them. . "It's going to an exciting and challenging event especially on the Friday when we'll have to look after the car and the tyres. Sunday's stages should be interesting, as no one has seen the stages before.
"Being up in Auckland there should a lot of spectators out and about and it'll feel like a big international event," says Gilmour.
Former NZ rally champion Chris West managed to put a less than auspicious start to his 2012 rally campaign behind him at Rally Otago. Despite gearbox dramas over the closing stages of the rally, he hung onto second place to collect a bagful of points.
He's now fifth in the championship, four points behind Matt Jansen and is going flat out to get back in contention in the title race.
"I'm definitely looking forward to the weekend. It's always nice to be at Rally NZ," says West. "I'm a bit back in championship and think realistically with the issues we've had in the previous rounds we've got our work cut out.
"There's still opportunities to score points over the rest of the season and we obviously need some luck. We've had some good pace and led rounds in the past but haven't finished the event and that's cost us dearly. The most exciting thing, though, is that when things are working we're fast enough to be competitive with anyone out there and it's a shame we haven't had the results we deserve.
"It'll be good to go up against some of the overseas guys and see how we get on."
The find of the 2012 rally series so far is youngster Alex Kelsey. This is a young man who built his own car at Coromandel, took it to Rally Whangarei and put everyone to the sword to lead the NZRC heading to Wairarapa, where he picked up more points.
Round three down south in Otago didn't go so well and he almost destroyed his car in a monster crash, earning nil points for the round. However, he's still third on the table and is mightily relieved he and his crew have managed to rebuild the car for this weekend's international event.
"It's a was a shame but it's all part of the game. You have the highs of Whangarei and then the lows of Otago [May 25-27]," says a philosophical Kelsey. "You can guess what we've been doing night and day since we decided on the way home to fix the car. It's been a huge job, as we've had to re-shell the whole car.
"There's been about 380 to 400 hours on the body shell alone and it's just come out of the painters as we speak [last Sunday].
"We're not too sure how the car will go after the rebuild but we haven't changed anything. All I want to do this weekend is to finish the rally and be there at the end."
Wise words, indeed, from such a young bloke after such a big crash. As all those who have raced anything will know, when the flag drops anything can happen and let's hope Kelsey and all the other Kiwi crews are in the hunt for a bit a glory towards the end of the weekend's racing.