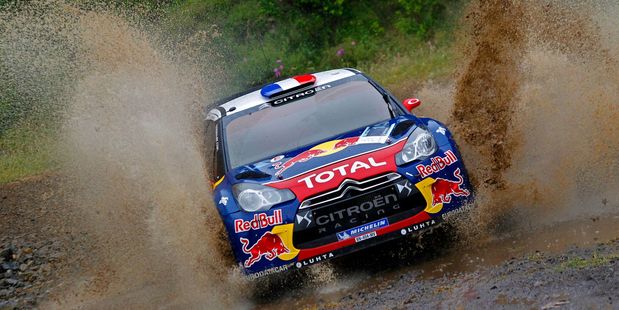 Eight-time champ is on form - and a big fan of NZ roads
Sebastien Loeb is seeking to push out his World Rally Championship lead this weekend - and hopes to give his Citroen DS3 its first Kiwi win.
The eight-time champion won here in 2005 in his Xsara WRC, and again in 2008 in the Citroen C4.
Loeb's enjoying a healthy 30-point lead over teammate Mikko Hirvonen going into Brother Rally New Zealand, and Citroen's in a dominant position in the manufacturers' championship.
But this country's challenging roads haven't always been kind to the French driver, and last time he nearly posted a DNF after smashing into a bridge on day one.
Not one to take disadvantage lying down, Loeb put his race face on and tried to fight back. This saw him take a massive 22 seconds out of his closest rival on just one stage, and as the event neared its end, he managed to grab back the overall lead.
Then-teammate Sebastian Ogier spun, and then Loeb followed suit and frustratingly handed the lead back to Jarri-Matti Latvala.
There's no denying that Loeb's on form this season, winning four of six events so far with long-time co-driver Daniel Elena - and he's a big fan of our roads.
"This rally may well be the pinnacle when it comes to driving on gravel," said Loeb.
"It's a bit like Finland -except the trees are much further back from the side of the road.
" It has often been said that it's an extremely quick course, but I think it's actually quite varied, with some really twisty sections. It is a rally where you need to be pushing all the time. If you're not giving it 100 per cent, you can see it in the times straight away.
"True enough, I have won the rally twice out of six attempts, but I have also made some mistakes here. Some when I was pushing hard, some when I had adopted a more measured pace. The speeds we reach here are such that you have to stay perfectly focused all the time."