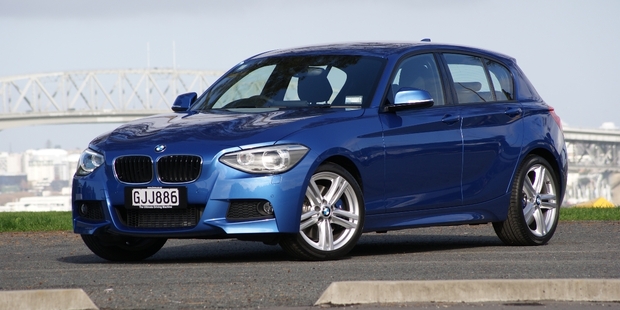 To declare my prejudice straight away, I don't normally approve of these kinds of BMW M Sport models. As you may know, M Sport is an enhancement package offered on many standard BMW models. Ignore the marketing fluff and the point of M Sport is really to make an ordinary BMW look a lot like a proper M-car.
That's pointless, because it fools nobody. Those who know their M-cars know the difference. Those who don't probably aren't impressed anyway.
Anyhow, I can't help approving of the BMW 125i M Sport. Because there isn't currently a 1 Series M-car anyway (the 1M coupe is the previous-generation model, remember), the 125i makes a monster 160kW from its 2.0-litre petrol-turbo engine and the One is small and cheeky enough to pull the whole thing off, even in the Estoril Blue finish of our test car - the same "hero" hue used for the international launch of the M5.
If you want a 125i in New Zealand you have to take delivery in M Sport guise; a standard model is not offered. The lesser 1 Series models are served up in Urban and Sport guises. M Sport is a level above the latter, with an aerodynamic body kit (including bespoke bumpers), sports suspension, special seats finished in a grippy cloth/Alcantara combination, 18-inch alloys and detail trim differences in the cabin.
The 125i's 2.0-litre engine has an odd diesel-like tick at low speed that fails to inspire. But the TwinPower turbo is astonishingly linear - so much so that you may not be sure it really does have forced induction. I will confess to popping the bonnet on it straight after writing the previous sentence, just to check. It does.
The 125i may have stop/start and an EcoPro mode for the powertrain to help achieve that 6.6 litres per 100km combined economy figure, but this is also a refreshingly old-school BMW in some respects: it's at its best buzzing around the 7000rpm redline (where it feels strong and crisp) and dancing through corners, the rear-drive chassis offering the kind of driver interaction that's simply not possible in a front-driver, no matter how good.
But even if you're driving slowly, the 125i has a particular seat-of-the-pants feel that is a cut above its obvious rivals. Which is how it should be, because the 125i M Sport is also priced well above its warm-hatch rivals, notwithstanding features like that rear-drive chassis and eight-speed automatic gearbox - which shifts with finger-clicking precision in Sport mode, by the way.
Exercise caution on the options. Our car boasted $11,600 worth, including satnav ($4000), power seat adjustment ($2400) and an M Sport brake package ($1500). Nice, but gratuitous on such a glorious car.
The bottom line:
Power and rear-drive poise: BMW 125i M Sport stomps all over a Volkswagen GTI for driver appeal. As it should, for $64,600.