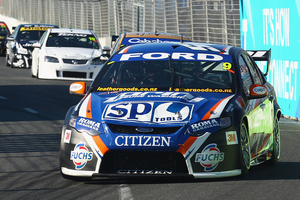 Kiwi V8 Supercar driver Shane van Gisbergen will race for Queensland-based compatriots the Stone Brothers for another three years after signing a new contract with the team this week.
That means the Auckland-born 23-year-old becomes the longest-serving driver at the team. At the end of his contract, van Gisbergen will have driven for Stone Brothers Racing for eight years, topping the five years both Russell Ingall and Marcos Ambrose spent with the team.
With the commitment of van Gisbergen assured, team principal Ross Stone was more determined than ever to finish what the team set out to achieve.
"Shane is 23 now and timing is just perfect to try and win a championship or two in the next few years.
"I believe Shane is more than capable of winning the championship. He has natural talent and he is one of those drivers who actually has the V8 Supercar dream. He doesn't have the desire to race for a European team and he isn't using this as a stepping stone."
Van Gisbergen said it was a "pretty cool feeling" to continue racing with SBR for the next three years.
"I definitely think I can win a championship with SBR, that is the main reason I wanted to stay," he said. "I wouldn't have stayed if I didn't think that. Everything is really exciting now and I'm looking forward to continuing to work with SBR.
"Stone Brothers gave me my start back in 2007 and have shown great faith in me. I have always been hungry to win races and I still am. I think Ross realises that I have only ever wanted to race V8 Supercars - I've never wanted to race F1 or anything like that."
Van Gisbergen made his debut for Stone Brothers Racing in 2007 as a 17-year-old. In 2008, he took over the #9 Ford Falcon previously driven by Ingall.
In 2011, van Gisbergen had his best year with SBR and took out his first race win in Hamilton. He then went on to win his second race in Darwin and finished fourth overall in the championship, his best results to date.
APNZ ks cr
- APNZ