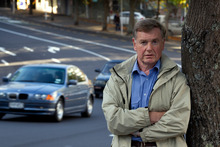 When Prue Ebery died in a car wreck on her way to an Anzac Day service three years ago, the lives of her loved ones were "changed forever".
"It's just so sudden - one moment you're talking to each other and the next moment it's all over," said her husband Mark, a fellow passenger in the car in which the 62-year-old former New Zealand Army major and Orewa resident died.
"It shows that lives can be totally changed forever in the blink of an eye."
Although injured himself, Mr Ebery was not as badly hurt as others in the car such as his wife's sister, who had to learn to walk again. His brother-in-law, driving when the car was hit side-on by a vehicle that had clipped another it was overtaking on the hill above Albany, was also seriously injured.
While he was helping the couple's two adult children through their bereavement, Mr Ebery was grateful for counselling from organisations such as the Birkenhead-based Grief Centre to ease him through bitterness about a life cut short.
He also praised emergency services and the police, who told him his wife was one of five who died on Auckland roads on the weekend of April 25, 2009.
Now, accepting that "getting angry is not going to bring anybody back", he is joining others who have lost loved ones in backing Road Safety Week 2012, for which a new branch of the British charity Brake has organised activities throughout the country.
"I'd received just so much help from so many people and I realised if we want to improve things, we must all get out and be pro-active and really get behind events such as this," he said.
Brake was brought here a year ago by chief executive Mary Williams who set it up in 1995, after her mother was killed by a runaway truck, and was made an Officer of the Order of British Empire (OBE) in 2000 for her work.
Keen on developing international reach, the former journalist saw New Zealand as fertile ground for the first non-British branch given its relatively small size and challenges such as a large rural roading network and a drink and drugged-driving culture.
"The carnage on our roads is relentless and destructive and causes horrendous trauma and grief," Ms Williams said. "It is something many people may choose to think will never happen to them or someone they know, but it will continue to happen unless all New Zealanders rally round the Road Safety Week call for everyone to put basic road safety rules first."
The week, which starts today as the charity's first campaign here, will involve awareness-raising events run by schools, groups and companies with sponsorship from QBE Insurance.
It has support from the police, Fire Service, St John Ambulance, the Transport Agency, Auckland Transport, Accident Compensation Corp, and walking and cycling groups. Events will include a silent protest with anti-speed slogans outside Brookby School in Manurewa and "Wheelie Wednesday" at Richmond Road School in central Auckland, when students will be encouraged to bring bikes, scooters, skateboards or roller-skates.
Although the road toll of 281 deaths last year was New Zealand's lowest since 1952, and the rate of 6.4 people killed per 100,000 population has almost caught up with Australia's 5.7, the Automobile Association says we still lag behind the best of Europe.
Britain's rate is less than half New Zealand's at 3.1 deaths and Sweden's is just 2.8. prompting a call by the AA to halve this country's toll by 2020, through an international decade of action for road safety.
By Mathew Dearnaley

Email

Mathew