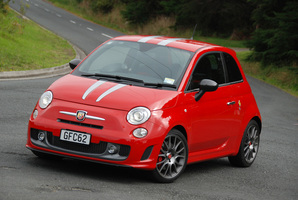 What is it?
If the Porsche's too pricey try this Abarth 695 Tributo Ferrari at $79,990, less than a third of the price.
Designed and built as a courtesy car for Ferrari dealers, demand sent the Fiat 500-based car into production.
There's a 1.4-litre Turbo T-Jet engine with "Manual Transmission Automated" and steering wheel paddles to use instead of the over-jerky auto mode.
The 305mm Brembo brakes are packed into 17-inch alloy wheels and the car rides on super-firm sports suspension with new shocks and springs.
With 132kW and 250Nm, acceleration is neck-wrenching at round-town speeds.
We like
Insane soundtrack, and hairy-chested engine while the variable back-pressure dual-mode exhaust pops, crackles and barks. You'll drive it like you stole it because it sounds its anti-social best that way. This cabin's ambience, like the mirrors and B-pillars slathered in carbon fibre and dominated by Saben sports seats, suits the price.
We loathe
The super-hard suspension will annoy, as it comes into its own only at straight-to-jail speeds.