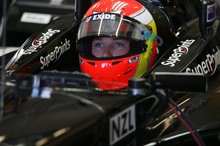 New Zealand driver Wade Cunningham is the latest to join an elite list of Kiwis to tackle the famed Indianapolis 500 motor race.
Cunningham, the 2003 world karting champion, today announced he has signed up to drive for legendary team owner A.J. Foyt in the May 27 race.
The 27-year-old made his debut in the IndyCar series last year, earning a campaign-best seventh place finish in the Kentucky 300 in October. He also has extensive experience on the four corner 4km banked oval 'Brickyard' course after racing in the development Indy Lights series, a competition he won in 2005.
This is his first attempt at the Indy 500, though, and he is doing it with a team owned and managed by four-time winner A.J. Foyt.
"It's certainly an honour driving for him," Cunningham said. "A.J. has raced everything from front engine roadsters to turbo-charged CART Indy cars at the speedway, so he's had an amazing career, and his is a very storied team."
Foyt is equally complimentary about his new driver.
"I think Wade will do a great job for us at Indy and I think he'll be a big asset to our team," he said. "I knew he was good in the little cars [Indy Lights] but what opened my eyes was his race at Kentucky in the Indy cars."
Though ovals were a new experience for him when he moved from karts to cars Cunningham is now a firm fan.
"I thoroughly enjoy racing on ovals," he says. "I think it's a great form of entertainment and, from a sporting side, I enjoy the challenge it provides on a technical level and then there's the physical enjoyment I get when I'm racing on an oval."
Scott Dixon is New Zealand's most successful Indy 500 entrant, having won America's most prestigious motor race in 2008. Few other Kiwis have attempted it, with the late Denny Hulme contesting four events between 1967 and 1971 and Graham McRae earning the rookie of the year award in 1973.
- APNZ