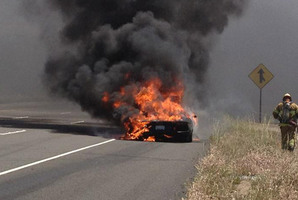 It seems the Prancing Horse isn't the only Italian stallion that bursts into flames.
A Californian man watched helplessly yesterday as this Raging Bull ended up on the barbie. The Aventador LP700-4 is the Italian supercar maker's flagship model, and sells in New Zealand for around $650,000.
The black Lambo caught fire on a Southern Californian highway, but the driver was able to get out unharmed.
To the surprise of onlookers, he didn't seem particularly concerned by the extremely expensive machine being on fire - because it belonged to a dealership and he was merely taking it for a test drive.
He watched as firefighters tried in vain to stop the supercar becoming a melted mess of aluminium and carbon fibre.
It hits 100km/h in a shade under three seconds, and rockets to a top speed of 350km/h courtesy of its 515kW V12 and very lightweight construction.
This was the first reported fire in one of these stunning machines, but is likely to cause the Italian boutique supercar maker a bit of grief as it ascertains just what caused the inferno.
Ferrari was forced to recall over 1200 of its 458 Italias in 2010 after five reports of spontaneous fires, apparently caused by an adhesive used to fit a heat shield under the rear bumper igniting at high temperatures.
American automotive blog Jalopnik reports that the Lamborghini fire is thought to have started in the left rear wheel well.