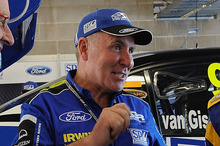 After a few relatively lean years, the fortunes of the legendary Stone Brothers Racing team may be surging again.
Heading into their 'home' event this week in Hamilton, the outfit run by Jimmy and Ross Stone have their three cars firing on all cylinders.
Shane van Gisbergen sits in fourth position in the drivers' championship, with Lee Holdsworth a spot behind.
Will Slade is also in the top 10, seventh on the ladder, placing the team third overall.
While the Stone brothers are famously not prone to rash predictions, team principal Ross Stone is not afraid to say that the glory days could be just around the corner.
"It has taken a while to get everything pointing in the right direction," says Stone of the last few years. "I believe these things go in cycles. We have worked very hard over the last few years and it feels like things are starting to come together now.
"Triple Eight have been brilliant over the last few seasons - now it is up to us to put some pressure on them and see how they respond."
Stone Brothers were the dominant force of the sport in the early 2000s, with Mark Ambrose scoring consecutive championships in 2003 and 2004, before Russell Ingall made it a hat trick in 2005.
Since those halcyon days, they have been overtaken by the exploits of Rick Kelly, Garth Tander and especially Jamie Whincup - but now seem set for another run at the title.
"I could see they are getting to the top of the cycle again - the top of the tree - and that was the reason I wanted to join them," says Holdsworth.
"It comes around in cycles and I think Triple Eight have been up the top for a long time and it's time for someone to bump them off. I can see we are getting very close and I think over the past couple of years SBR has been building and getting stronger and there is no doubt we are continuing that form this year.
"I don't think we are far away - there are just little things we need to get right and certainly next year, we will be all over it, with the car of the future."
The Stone siblings have been in the game since 1998 but remain as passionate and committed as ever. As the technical whizz, Jimmy remains behind the scenes, famously media-shy, while Ross is the public face of the operation.
"Before I joined, I saw them as real professional, laid-back and genuine and being on the team has only confirmed those views," says Holdsworth.
"Because they have had so much success [41 race wins], they know how it is done and the way to do it.
"As a driver, they also support you through the highs and lows - they know that one bad performance doesn't break a season and quickly tell you to get your chin up."
Holdsworth adds that Jimmy is known as 'the ferret' around the team, for getting involved in everything, while Ross is more chilled out but equally passionate.
"I know people think we are laid-back but I would call it conservative," says Ross Stone.
"We know we are very fortunate to be doing something we love and we like to do things to the best of our abilities. Jimmy and I are in it for the racing and no other reason."
Much of the focus this week will be on van Gisbergen as the obvious Kiwi hope and especially after his memorable victory on a rainy Sunday last season.
The 21-year-old has had an impressive start to this campaign, highlighted by a second place in Tasmania, and Stone takes obvious pride in his development.
He was introduced to the teenager after a Formula Ford meet at Pukekohe and was immediately impressed by his quiet determination and singular focus.
"His dream was to race in Australia," says Stone. "It wasn't just a stepping stone for him into other Formula. As a 17-year-old, we took him for a test, and after a few laps, he looked like he had been doing it all his life."
Van Gisbergen moved to the Gold Coast, staying in Ross' home during his first year in Australia: "He was always pretty quick up the stairs when the dishes needed to be done," jokes Stone, "but apart from that, he was great to be around."
Since then, his obvious talent has blossomed and he is expected to be a contender every race weekend.
By Michael Burgess

Email

Michael