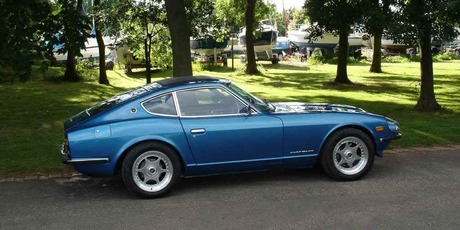 After months of speculation, Nissan has confirmed it will resurrect the Datsun name from 2014 as a low-cost brand for developing markets - three decades after its 1983 demise.
The news - and a new blue and silver badge - was announced in Indonesia by Nissan CEO Carlos Ghosn, with the populous Southeast Asian nation set to be among the first to receive the new Datsun product alongside India and Russia.
But do not expect to see new a version of the 240Z, with the range aiming at low-cost markets.
Datsun's original life lasted from 1931 to 1983, before it was subsumed into the Nissan brand.
The announcement was made by Nissan/Renault chief executive Carlos Ghosn, during a visit to Jakarta, Indonesia.
Ghosn plans for Datsun to become the company's third global brand, with Nissan and Infiniti.
He has been reported as describing the new Datsun model as "a green car, affordable car, small displacement, high local content. It's going to be a generous car".
Nissan will be investing around $490 million in Indonesia to increase sales in the country to 250,000 by 2014.
The plan will make Nissan's Cikampek site, located 80 kilometres from Jakarta, one of the carmaker's largest production facilities in the Asean region.
Indonesia led the Asean region for total car sales in 2011, with 890,000 vehicles sold. Sales are projected to nearly double by 2017, and Datsun will be key to Nissan's drive to capitalise on this expansion.