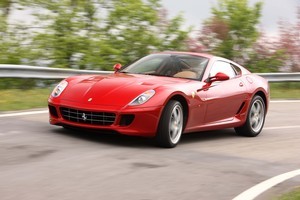 Ferrari is set to unveil its V12-powered successor to the 599 and the Prancing Horse brand says it will be the most powerful road car it has yet built.
Overseas reports indicate that the Italian marque's new flagship will be called the 620 GT, and that it will be powered by a version of the 6.3-litre V12 from the FF with about 522kW.
In comparison, the 599's 6-litre V12 produced 456kW in standard guise or 500kW in the ultra-exclusive 599 GTO edition, while the brand's Enzo hypercar from the early 2000s had 485kW.
Last week, Ferrari released a short teaser video showing the heavily disguised 620 being put through its paces at the Fiorano circuit by Formula One drivers Fernando Alonso and Felipe Massa.
The footage seemed to show paddle shifters behind the steering wheel, which would indicate the fire-breathing engine will be matched to the seven-speed dual-clutch transmission also used in the FF.
It is not yet known if the new model will use the patented 4RM all-wheel-drive layout from the FF or stick with the 599's rear-drive configuration is yet to be seen. The car is likely to utilise some of the weight-saving and aerodynamic enhancements achieved on the blistering 599XX research and development track car shown at Bologna last December.
An official teaser shot shows the 620 will feature similar long and low proportions to its 599 predecessor, but with a simpler and cleaner character line running across its flanks. The car in the shot sits on large five-spoke wheels, with a prominent silver prancing horse logo fitted low on the large front grille.