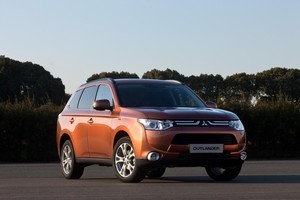 Mitsubishi has provided the first official picture of its latest Outlander, which will be unveiled at the Geneva motor show next month and go on sale in New Zealand later in the year.
It has similar dimensions to the outgoing Outlander but its styling is almost identical to the Concept PX-MiEV II unveiled at the Tokyo motor show last year. It is more curvaceous than the outgoing model, with a rounded front-end, integrated headlights, and a grille that emphasises the car's width.
A redesigned interior offers improved quality and more practicality. The seats fold flat into the floor, the tilt- and height-adjustable steering column has more ergonomic controls, and the dashboard displays are easier to read. Luxury options include an electrically powered tailgate and dual-zone climate control.
The third-generation Outlander will come with 2-litre petrol or 2.2-litre diesel power and will be offered with a six-speed automatic gearbox. Some models will include start/stop with Mitsubishi claiming emissions of 130g/km.
Further reducing emissions is the plug-in hybrid version, which will arrive in New Zealand next year.
The technology shown in the PX-MiEV II saw a 2-litre petrol engine mated to a pair of 60kW electric motors for a range of more than 800km and an emissions target of less than 50g/km.
The plug-in version is likely be available with four-wheel drive, too. Safety kit includes forward collision mitigation, lane departure warning and high-intensity LED headlights.
Since its introduction in 2006, more than 7000 Outlanders have been sold in New Zealand.