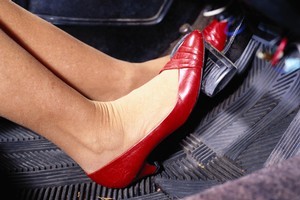 Make practicality your sole focus when driving, advises Liz Dobson Flat shoes are best for driving, high heels are risky, and bare feet are inadvisable.
Jandals seem to be the footwear of choice in New Zealand during summer, but if you drive long distances or are in your car often, it's important to wear the correct shoes.
In the wrong footwear, you have a high chance of having an accident, as international surveys have found.
In Britain, a study team interviewed people involved in near-misses because of improper driving footwear. One participant was wearing thick-soled shoes and didn't realise he was pressing down on the accelerator and brake at the same time.
Another driver took his shoes off to drive, but his foot slipped off the brake pedal. In another case, a woman's high heel got caught under the accelerator.
According to research by a British car insurer, 10 per cent of women motorists admitted they have had a car accident or a near-miss because of their shoes slipping off or getting stuck between, or under, the pedals.
Eighty per cent of female drivers chose style over safety.
So what's the sole-ution? The choice of footwear for driving must allow the foot to feel the pressure needed by the pedals to achieve the desired braking or acceleration.
Shoes with soles more than 10cm thick or clogs with hard heels are unsuitable for driving as their hard bottoms obstruct feeling. And both accelerator and brake pedals are worked with the heel on the floor, so a stiletto will also be a problem.
The sole of the shoe should not be too soft or too flexible, and it should have enough grip on the pedal to avoid slipping. The ideal footwear should be lightweight to enable easy movement and not hinder ankle movement, so consider running shoes or plain, flat shoes for driving.
Toeing the line
When it comes to shoes for cars, here are two examples that go from the sublime to the ridiculous.
Maserati has just launched a line of 12 different driving shoes. But if you want a pair, you'd better be quick, because only 200 pairs of each design are for sale worldwide from the Maserati Store (www.maseratistore.com) and cost from $280. The sole, in rubber, TPU and EVA, delivers excellent grip.
In Britain, an insurance company for women only, Sheila's Wheels, created a prototype shoe for drivers called ... Sheila's Heel.
The Heel combined a safe, flat driving shoe with a glamorous pair of heels - all interchangeable at the push of a button.
Unfortunately, the public reaction to them fell flat and they were never produced.