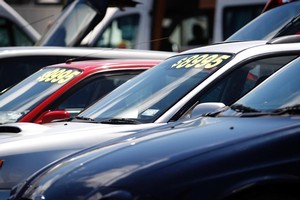 New Zealanders bought 7499 new passsenger cars in January, the highest monthly total since 2008 and the second highest since Motor Industry Association records began in 1975.
"The strong start to the year is hopefully an indication of things to come" said MIA chief Perry Kerr.
Figures show Toyota sold 1740 cars for around 23 per cent of the market, followed by Holden with 794 registrations (10.6 per cent) and Hyundai with 780 (10.4 per cent).
The Toyota Corolla was the best-seller (828) followed by the Suzuki Swift (382) and the Hyundai i30 (312).
Light commercials (1182 sales) are still feeling the impact of stock shortages from the floods in Thailand. There were 1182 registrations in January, led by the Nissan Navara (144), Toyota Hiace (132), and Ford Ranger (95). The Toyota Hilux was an unusual fourth (89).
Mazda seeks partner
Mazda CEO Takashi Yamanouchi says the carmaker is "actively" seeking alliance partners as it faces an increasingly dire financial future.
"We are considering every option," he said. His comments came after Mazda forecast a net loss of NZ$1.6 billion in the financial year that ends next month.
It would be Mazda's fourth straight year of red ink and its worst showing in 11 years, since a net loss of $2.5 billion in 2000-2001.
Its worldwide sales last year dropped 2 per cent to 1.25 million units. Mazda exports a greater percentage of its vehicles from Japan than any other carmaker and has been hit hard by the yen's continued strength, says industry weekly Automotive News.
In 2009, Mazda raised $1.5 billion through a share sale. It invested much of that money into "green" technologies such as its Skyactiv line of fuel-efficient engines and lightweight body architectures.
Yamanouchi wants to offer Skyactiv products to other carmakers to attract new partners.