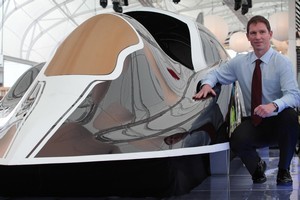 A New Zealand entrepreneur wants to build the fastest car in the world. But now the hard work starts - raising $30 million to make it roll.
Jetblack is the brainchild of Wellington residential property developer Richard Nowland and has the support of the government-owned Industrial Research, which says it is contributing expertise and staff time.
A fibreglass replica of the 13m black vehicle was unveiled at the Cloud in Auckland as part of the effort by NZ2011 to show off local design and technology.
The land speed record stands at 1227km/h and Nowland hopes to break it in the rocket-powered vehicle within five years. Its power will come from two California-built hybrid rockets similar to those used on Virgin Galactic's passenger spacecraft.
Nowland said he has long been fascinated by extreme speed and began work on the project several years ago.
"This is something of a hobby that became a full-time job. I guess this stands on the shoulders of John Britten and Sir Edmund Hillary - New Zealanders who have said it doesn't matter where I'm from, I can achieve something that's absolutely fantastic. This is a dream and a challenge and I felt I wasn't going to be constrained by a lack of resources."
Asked where the money was coming from, Nowland said: "That's a good question. Raising the money will be a mix of our own revenue generation, sponsorship and investment."
Despite the difficult economy he was confident of raising between $25 million and $30 million to build the vehicle.
It was important to build the $120,000 replica to display to potential donors and investors.
Industrial Research says its contribution is in the range of tens of thousands of dollars.
Although the car would be a fuel-guzzler, Nowland said technology being developed could be used to enhance fuel efficiency in other vehicles.
The push would be to make it lighter, stronger and more aerodynamic.