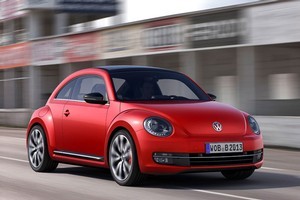 Volkswagen is standing by its accusation that Suzuki breached a partnership agreement by buying engines from Fiat.
VW said the Japanese company's complaints that its honour has been breached were "theatrical".
VW repeated that Suzuki has to "correct" an alleged contract violation stemming from its purchase of diesel engines from Fiat.
VW was responding to Suzuki's demand that VW retract its accusation of a contractual violation.
Suzuki chairman Osamu Suzuki said his company did not breach the partnership agreement. The allegation had "significantly disparaged Suzuki's honour", he said.
In response, VW said that it failed to understand how adhering to contractually defined rights can be defamatory. "From Volkswagen's perspective, every effort has been made from the start to continue the partnership," the company said.
Suzuki said it had sent an official complaint to VW chief executive Martin Winterkorn. VW confirmed that the letter was received and said: "Such theatrical actions are unhelpful in the current situation."
Mr Suzuki said earlier last month that he wanted a "divorce" to end the 20-month-old carmaking alliance after VW's US$2.9 billion investment failed to yield a single project.
The relationship escalated into a public feud after the German carmaker, which owns 19.9 per cent of Suzuki, said it could influence decisions at the Japanese company.
Suzuki, which owns 1.49 per cent of VW, plans to sell its holdings if the tie-up ends, the company said in a statement to the Tokyo Stock Exchange. VW has said it doesn't plan to sell or reduce its stake in Suzuki.
The stubborn stance of the two carmakers means the companies are unlikely to resolve their differences, industry watchers say.
Gearbox project
Hyundai and Kia are working together to develop a new 10-speed automatic transmission, which could be ready by 2014. Hyundai Motor Group president Park Seong Hyon said the new gearbox would likely be used in the Genesis and Equus sedans, which are not available in New Zealand.
Hyundai this year introduced a new, eight-speed transmission that was developed in-house. The gearbox was installed in the updated 2012 Hyundai Genesis sedan.