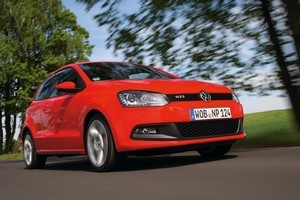 Volkswagen is onto a winner with the GTI version of its wee Polo - and fresh spy pics indicate the much-vaunted R version is in the wings.
Sneaky Euro carparazzi's hours hiding in trees have paid off and the Polo R that has been consistently denied by the company has finally broken cover. R designations on both Golf and Scirocco have materialised as brilliantly aggressive, surefooted versions of their already well-fettered GTI brethren.
The Polo R is tipped to use an all-new 1.6-litre TSI engine that will push out around 155kW. At present, the Polo GTI is in high demand, with dealers begging for more. It uses a 1.4-litre TSI mated to a seven-speed DSG trans and puts out 132kW.
The new, more efficient engine will be fitted to the new Polo R WRC rally car that will join the world championship in 2013, albeit in grumpy gravel-chewing form at 225kW.
In calmer spec as an R road car the Polo should offer a 0-100km/h sprint of six seconds and a terrifying top speed of 240km/h.
It's tipped to be on showroom floors towards the end of next year.