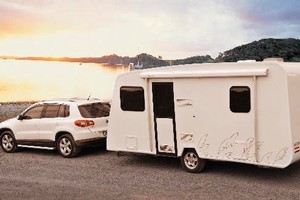 The Oxford 55's modern exterior complements its spacious open-plan interior.
The classic Oxford caravan is heading back to summer holiday venues in New Zealand, this time chocka with mod cons.
Motorhome and caravan company Motek (formerly Ci Munro) has unveiled two new models for this weekend's caravan show in Auckland.
The Oxford 55 and larger Oxford 65 provide a modern twist on the classic designs.
The new Oxfords also sport an updated exterior. Inside, the open-plan design of the 55 model's living area merges with a kitchen complete with double-door fridge/freezer, oven and microwave. The Oxford 65 comes with master bedroom, separate living area and bathroom and spacious storage.
The Oxfords come with a special caravan show launch price: $56,900 instead of $62,347 for the 55, and $65,900 instead of $72,097 for the 65.