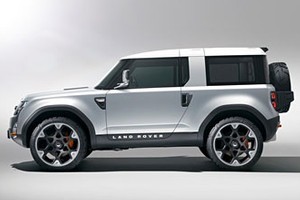 Land Rover's hard-edged Defender is getting a much-needed update.
The iconic mud basher has kept very similar styling for nearly 65 years - but the company has always shied away from radically remaking the well-regarded off roader.
At the Frankfurt Motor Show the concept version of a new-era Defender called DC100 will be unveiled.
The company says that a new Defender will go into production for 2015, but has not outlined which markets it will be sold in.
"Replacing the iconic Defender is one of the biggest challenges in the automotive design world," says design director Gerry McGovern.
"It is a car that inspires people worldwide. This isn't a production-ready concept but the beginning of a four-year journey to design a relevant Defender for the 21st century."
The reaction to the concept at Frankfurt will help to finalise a design, drawing on the customer base to get the right mix of modern and old, without diluting the badge of a vehicle which has been around for so long.
"We plan to engage with existing and potential customers to help us finalise the details of the new vehicle," says brand boss John Edwards.
"We are determined that the new Defender will be true to its heritage, while meeting the requirements of a changing global market."
- NZ HERALD STAFF