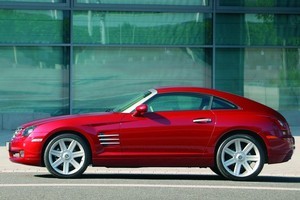 The dilemma:
Recently divorced and starting afresh, Garth figures he needs both a different image and a new car to go with his newly acquired thirty-something singles lifestyle.
Actually, no choice there; his ex got both the Camry and the two dogs. "To be honest, I really like the idea of a Chrysler Crossfire Coupe," he says.
"I always remember the first one I saw, bright red and parked outside the vegetable shop, it made quite an impression on me."
And in his new situation, what says "singles lifestyle" better than a Crossfire? Garth has sort of made up his mind, but needs reassurance and would like a couple of alternatives, just in case.
First, a bit of background on the Crossfire, sold here in relatively small numbers as both a coupe and convertible.
A product of the now also divorced Chrysler/Daimler-Benz relationship, the Crossfire was similar to the much more expensive Mercedes SLK and shared many of its components, including engine.
Although nominally American, it was built in Germany by Karmann, known here principally for the Volkswagen Karmann Ghias of the 1960s.
Despite this parts bin pedigree, Crossfire was a slow seller in the US and, after five years, was axed in 2008.
The budget: Around $35,000
The shortlist
Chrysler Crossfire
Late-model low-mileage Crossfire Coupes are selling in the mid $30,000s; they cost around $75,000 when introduced here in early 2004. Equipped with a 3.2-litre, 18-valve, SOHC V6 engine which produced 160kW and 310Nm of torque, the Crossfire handled and rode well. It was quite well equipped and nicely finished.
From $35,000
Holden Monaro
One for the big Aussie fans. These also sold for around $75,000 when introduced in 2001. They were originally available with a supercharged 3.8-litre V6 (dropped in 2003) or a 5.7-litre Gen III V8 which could be bolted to either a six-speed manual or four-speed automatic gearbox. It morphed into the upgraded Series 2 in 2003 and Series 3 a year later. Various special editions were produced, including versions by Holden's performance wing, HSV. It was quietly dropped in late 2005 and enjoys icon-like status in some car enthusiast circles. Totally different driving experience from the Crossfire.
From $36,000
Lexus SC430
This one's both a coupe and a convertible and switches from one to the other at the touch of a button. Powered by a somewhat thirsty 4.3-litre V8, there's not much that's sporty about this Lexus but it's a good cruiser, reliable and carries the Lexus cachet. Originally listing for around $160,000, depreciation has taken a huge bite and today's prices represent great buying, especially as many have low mileages. Used imports, including the similar Toyota Soarer, are often even cheaper.
From $35,000
Driven recommends
Go for the Crossfire, Garth. It's a good car and arguably the best babe magnet of the trio - unless you want to attract a rich older woman, in which case maybe the Lexus.