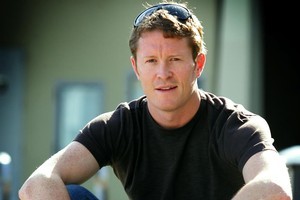 New Zealander holds off a spirited challenge from a teammate to grab his first win of the IndyCar season
Scott had one of those days. He was in a different zip and he deserved to win. From the time we came here for the test [July 28] he's been on a mission.Dario FranchittiScott Dixon has won three times at Mid-Ohio. It was a relieved and very happy Scott Dixon after his first win of the 2011 IndyCar season. The New Zealander has been on the podium a few times this season but hasn't managed to stand on top until this week.
Dixon has won the Mid-Ohio race in Lexington three times now, his previous wins coming in 2007 and 2009. The two-time IRL champ and Indianapolis 500 winner was pleased with his work.
It has been a while since Dixon was that dominant throughout a race and he held off a spirited Dario Franchitti, his Target Chip Ganassi Racing teammate, to pick up maximum points.
"It was such a close thing with Dario when he came out [of the pits] but we had a great day," said Dixon.
"It was a supreme effort from team Target to get a one-two result. We worked so hard to get the pole and come back to win. I was a bit furious when Dario got back in front of me as we had been leading for most of the day, but on the last restart he did a hell of a job [not crashing into Dixon] and I respect him for that."
Dixon now ties Emerson Fittipaldi as a three-time winner, albeit in odd numbered years, at the Mid-Ohio Sports Car Course and it's his 26th career IndyCar win.
"I'd prefer [to win] every year. We'll have to work on that from now on," he said.
The Kiwi made his move on Franchitti after the restart on lap 61 of the 85-lap race, and pulled slowly away from the Scot who still leads the championship on 428 points.
Dixon's haul of 53 points closed the gap on second-placed driver Will Power in the championship to 31 points. Power is 62 points back from Franchitti with six races to go.
"I got a better restart than Scott but he got a good draft and before we even got to the braking zone he was alongside me," said Franchitti.
"Scott had one of those days. He was in a different zip and he deserved to win. From the time we came here for the test [July 28] he's been on a mission.
"Good points day for us despite Will's best effort to spin me around at the start of the race."
Aussie Power had a race to forget, starting fourth but finishing in 14th after twice being caught out by full track yellow flags.
"We suffered for doing a great job of driving a smart race. We just got caught out by that last yellow flag," said Power.
Japanese driver Takuma Sato's season continues to improve and he finished a series-best fourth just behind Ryan Hunter-Reay with drive of the day coming from Brazilian Tony Kanaan.
The KV Racing Technology-Lotus driver started 16th on the grid and muscled his way up to sixth when the chequered flag came out.
Dixon was among the fastest drivers of the 21 who hit the circuit in late July during testing and, as he has shown in the past, he likes the purpose-built race circuit.
His win will be a great fillip. Dixon has battled recently on his favoured road course tracks where he failed to finish in the top 10 in three of the first four races.
"It was definitely nice to have a smooth weekend for a change," said Dixon, who has finished second twice on race tracks - as opposed to ovals - this season. The next race is on Monday at the 1.6km New Hampshire Motor Speedway. Four of the final six races are at tracks new to the series this season.