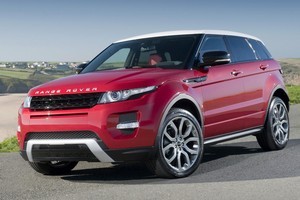 Range Rover's new Evoque comes in many versions ... all with a top sound system
Range Rover's new Evoque will be priced between $79,990 and $104,490 when it goes on sale in New Zealand this year.
The luxury off-roader will be available in three- and five-door bodystyles with a choice of petrol or diesel engine, three design themes - Pure, Dynamic and Prestige - and a wide range of options and accessories, including equipment and styling packs.
Options run between $5750 and $9260 and include three roof treatments, seven alloy wheel designs, 16 interiors and a panoramic glass roof.
Evoque comes in two- and four-wheel-drive versions, although the front-drive model will be available in New Zealand on special order.
New four-cylinder diesel and petrol engines using mild hybrid technology will help Range Rover meet next year's new European fleet emission standards.
The managing director of Range Rover parent Land Rover, Phil Popham, says the five-door bodystyle has the same compact footprint and technology as the three-door, or Evoque coupe.
"Enhanced sustainability has been at the centre of the design and development of the Range Rover Evoque," he said.
The five-door is 30mm taller than the coupe and has more shoulder and headroom in the rear. Land Rover design director Gerry McGovern said he sought to retain in the five-door the coupe's "emotional appeal".
"The key lines remain intact - the dramatic rising beltline, muscular shoulder running the length of the car and the distinctive taper to the floating roofline - but with a slightly higher rear roof," he said.
The Evoque is the first Range Rover to have a sound system from high-end specialist Meridian.
The choice of engines includes two turbocharged diesels and a petrol unit mated to either six-speed manuals or six-speed automatic gearboxes.
The 2.2-litre oil-burners deliver 110kW or 140kW and up to 400Nm of torque. The 2-litre petrol engine combines direct fuel-injection, turbocharging and twin variable valve timing to deliver 177kW.
Land Rover calls it the Si4, but it is nearly identical to the Ecoboost engine that Ford New Zealand will use for the the updated Ford Falcon.
Land Rover director of programmes Murray Dietsch said: "We have combined state-of-the-art powertrains with a lightweight bodyshell and a range of low-carbon technologies to deliver fuel efficiency, which is outstanding for a premium SUV."
All Evoque models will come with a six-speed automatic 4WD transmission. Manual gearbox models will be available only to specific customer order.
What it will cost
Range Rover Evoque (coupe variants extra $2000)
TD4 110kW
Pure $79,990
Dynamic $96,490
Prestige $97,990
SD4 140kW
Pure $86,490
Dynamic $102,990
Prestige $104,490
Si4 177kW
Pure $86,490
Dynamic $102,990
Prestige$104,490
Option Packs:
Pure Tech Pack $5750
Prestige/Dynamic Tech Pack $7140
Dynamic Plus Pack $9260