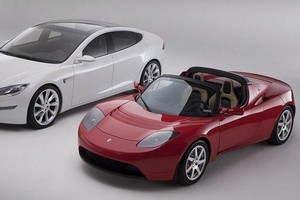 United States electric carmaker Tesla will stop taking orders for the Lotus Elise-based Roadster in about two months to focus on its Model S electric sedan.
Despite never being produced enmasse, the Roadster, which cost US$109,000 ($135,700), served as an important benchmark for carmakers to prove that electric cars were a viable alternative to internal-combustion engines.
Former General Motors vice-chairman Bob Lutz says that the Roadster served as his company's motivation to develop the Chevrolet Volt electric car.
Tesla sold only 1650 Roadsters worldwide as of April. The car is sold in the US, Europe, Asia and Australia.
The Roadster can go from zero to 100km/h in less than 4sec, according to Tesla, and can travel about 400km on a full charge. The first sales of the Model S are expected to begin about the middle of next year.