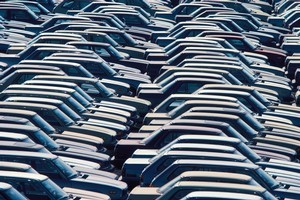 The US car market is shifting away from decades of dominance by Honda and Toyota among buyers of compact cars and family sedans.
While production shortages caused by the tsunami in Japan hastened that shift, it was under way already, said Eric Noble, president of The CarLab, an Los Angeles consulting firm.
"Both companies are losing ground because their products haven't been competitive in key segments for half a decade," Noble told Bloomberg. "The inventory shortages will force shopping that wouldn't have happened for another generation."
Toyota stumbled with last year's recalls and hasn't recovered its trust advantage with consumers, Noble said, while Honda has fallen behind when it comes to styling, creature comforts and innovation.
No longer are the Corolla, Camry, Civic and Accord the default choices of value-minded US consumers.
When car shoppers look around, they will find that South Koreans Hyundai and Kia Motors no longer make budget cars, that Ford and General Motors are no longer producing unreliable sedans, and that Volkswagen has slashed its prices.
Honda's market share has fallen to 9.9 per cent this year from 10.6 per cent. Toyota's share has tumbled almost two points to 13.2 per cent.
Rivals have figured out that they can challenge Japan's once-unassailable leadership in fuel economy and beat them with styling.
"We've determined in our strategy with both the Sonata and Elantra to focus on design and fuel efficiency," said John Krafcik, chief executive officer of Hyundai's US sales unit. "The cars look sexy, you want to put them in your driveway."
Toyota and Honda have been very good over the years in "quantifying the voice of the customer" in their products, Krafcik said. "They've taken a very scientific approach, which can lull you into doing something in a very logical fashion."
As competitors have stepped up, Honda and Toyota models have slipped down the ranks in US Consumer Reports. But Toyota has new models on the way that will get sales turned around, said Joe Tetherow, a spokesman for Toyota US.
Toyota is "not going to stand still", he said. "There are some things on the table that people are going to have to take a look at pretty soon.
"You can foresee that Toyota is going to be coming back with something significant."