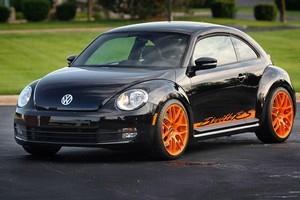 The Volkswagen gurus at website VWvortex were given early access to the new 2012 Beetle - and this is what they came up with.
The visual makeover of the new bug draws its inspiration from the Porsche 911 GT3 RS, complete with bright orange 20-inch alloys on low-profile rubber and a matching stripe with the words Beetle RS.
The look is further enhanced by blacked-out chrome, badges coated in a 3M brushed-titanium wrap, and 14-inch brake discs from Brembo.
That's it - for the moment.
VWvortex is now waiting for the car to go into production before it tweaks the engine, upgrades the turbocharger, adds a new exhaust, and throws on a locking differential, along with a GT3 RS-style rear wing.