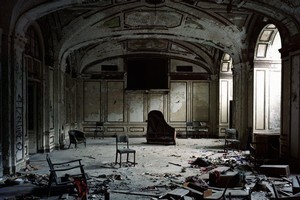 It's hard to comprehend but the pictures tell the story - the heart of Detroit, America's once-thriving "Motor City", has become a deserted ruin.
Rebuilt after a fire nearly razed the city in 1805, Detroit's graceful architecture and monumental spoke-like avenues once earned it the name "the Paris of the West".
Its motor industry thrived from the beginning of last century, established by Henry Ford and followed by General Motors, Chrysler and American Motors, their appetite for labour bringing a huge influx of immigrants from the Deep South, Ireland and Europe.
By 1920, Detroit was the fourth-largest city in the United States, reaching a population of 1.85 million in 1950. But over the last decade the number of people living in the city has fallen 25 per cent to 713,000. People, civic facilities and businesses have cleared out, leaving one-third of its 225sq km urban sprawl empty, its glorious Baroque and Art Deco architecture rotting.
It's a phenomenon reflected in other US cities - one of the best-known being Flint, the city north of Detroit where the relentless slide of its own motor industry was recorded in Michael Moore's documentary Roger & Me.
Detroit's decline is thought to be the most dramatic symbol of the American recession, accelerated by fractious race relations, drug crimes and the mass escape of the middle classes, both black and white, to other cities or Detroit's suburban "Green Belt" about 20km away.
Auckland photographer Frank Schwere, whose dramatic - and beautiful - series of images of Detroit's decaying buildings is on show at Two Rooms, spent two weeks in the silent central city in 2008, entering basements to gain access to trashed hotel ballrooms, abandoned churches and the huge disintegrating Michigan Central Station.
He also took exterior photos of a slumping wooden house, an empty fire station and the Albert Kahn-designed factory where Cadillac body parts were once made, now covered in graffiti, its windows broken, the weeds pushing up through asphalt.
"I am a cityscape photographer and I am interested in spaces undergoing transformation," says German-born Schwere, who lived for more than a decade in New York before moving to New Zealand.
"I like areas where the earth is reclaiming manmade spaces," he adds, pointing to the Cadillac factory image.
Schwere has seen similar decay in places such as Wilmington, Philadelphia.
"The beautiful old bars and restaurants with stunning interiors are all boarded up, but Detroit tops it on a massive scale," he says. "Downtown you have beautiful skyscrapers, 35 storeys high, completely abandoned. The situation looks dire - you can travel 16km through devastated urban landscapes with architecture crumbling everywhere and at the end you reach the Green Belt with the golf courses and the middle classes with their mansions, rich people."
Looking at the photo of the Lee Plaza Hotel ballroom, with its upturned grand piano, Schwere says that while the room looks brightly lit it was almost completely dark.
"The windows were boarded up with just a sliver of light coming in. It was a grand Art Deco hotel [built in 1929] and there are bits of tinsel left in the room - there was something like a party there.
"It was a 10-minute exposure using a large-format camera. It allows me to straighten the architecture and get the depth of field so everything is sharp. It is head-on straight photography with a central perspective. I am trying to take myself out as much as possible. I am not trying to bring a subjective view into it and make crazy angles. I want the space to live on its own and to be as it is."
By coincidence, Schwere was documenting the Detroit buildings at about the same time as two French photographers, Yves Marchand and Romain Meffre, whose book The Ruins of Detroit was published in December. Their images are more inclined towards what Schwere would call the "crazy angle" perspective.
Looking at the Marchand-Meffre photo of the wrecked United Artists Theater, the camera aimed at the stage from the upper right-hand side, Schwere laughs and says he would have taken the shot from the aisle, downstairs, slap bang in the middle.
While the city felt empty, Schwere was aware of some human presence on the edges - the police who kept stopping him to ask what he was doing, the menacing drug dealers who followed him one day in their car, and "lots of homeless".
"It wasn't always safe. When I went into the train station, which is enormous, a homeless guy came around the columns and asked me what I was doing there. He was quite incomprehensible then he said, 'I am making a wire fire.' I had no idea what that meant then 15 minutes later I smelt this really strong plasticky burning smell, and I walked into this hall on the 13th floor [see Arcade, Michigan Central Depot image] and there he was in the middle with all these wires piled up, burning them. He was consuming the building."
Schwere was born in Germany's northern-most town of Flensburg and grew up in Bonn. He wanted to be a painter until his father introduced him to photography when he was 15. "He had a darkroom in the basement and very soon it was me down there. It was magic. I loved the immediacy of photography and I like to work in series - that has always stayed with me. It is telling a story."
He studied photography in Germany for five years, then moved to New York in 1997 to do a one-year programme at the International Center of Photography. After a well-regarded end-of-year exhibition, he was approached by the advertising and fashion industries and developed a successful commercial career, shooting for magazines and newspapers such as Fortune, Marie Claire, Nylon, Stern, Vanity Fair, Wired, Der Spiegel and the New York Times.
He describes his methodology as "head-on, strong, not emotional at all", in the manner of the German New Objectivity movement which originated in the 1920s and emphasised photography as documentary.
His stylistic heroes include Eugene Atget, August Sander, Albert Renger-Patzsch and Bern and Hilla Becher (works by Atget are for sale in Art+Object's Important Photographs auction on June 9).
His determination to record events objectively was put to the test when the 9/11 terrorist attacks hit New York. His series, September 13, comes from photos he took in the Ground Zero area two days after the planes flew into the World Trade Center buildings.
"I lived in Brooklyn and everything was shut down," he recalls. "I called the New York Times to get a pass but they couldn't get me in. It was a crime scene run by the FBI and the CIA but my friend at the paper said, good luck, give it a shot.
"I went to Manhattan and Union Square and I managed to get through several checkpoints but it was getting more and more militaristic and harder. I got further in when I climbed over a 5m fence and then I looked back and saw all the press around the corner with the long, long lenses. I saw one photographer coming out from Ground Zero - he passed me and told me to get out as they were arresting photographers. I thought he was trying to get rid of the competition but I heard it on the radio the next day and it was true.
"I was in there for nine hours. I wanted to get images from around the disaster, not the rescue efforts. It was ghostly, I was walking on a carpet of dust, you couldn't hear your own footsteps."
Schwere and his New Zealand girlfriend married one month later ("my mother calls her a war bride", he laughs) then, after the anthrax and other security scares they decide to get out. After travelling for some years they moved to Auckland.
"We always missed being able to sit in your own garden and grow your own plants," he says. "I have always lived in the city but I am quite a nature guy and I didn't want to die only knowing the concrete city. I wanted to breathe, see the sky and the sea and now I have peace. We grow our own food, we have honey bees, it is paradise."
Schwere's website - schwere.com - shows images from the September 13 series, as well as Detroit and Ninth Ward, scenes from New Orleans after houses were swept away during the 2005 Hurricane Katrina floods.
Another series, Land, reveals something more serene, including stunning photos taken when he was tramping on Mt Tongariro and Mt Aspiring. After photographing the devastation of Detroit, New York and New Orleans, it seems Schwere has found tranquillity and beauty in the New Zealand landscape.
Exhibition
What: Detroit: Remnants of an Industrial Metropolis by Frank Schwere
Where and when: Two Rooms, 16 Putiki St, Newton, to June 18. Schwere will be giving a talk at the gallery on a date to be confirmed
Detroit is part of the Auckland Festival of Photography at galleries around the city, June 3-26; see photographyfestival.org.nz