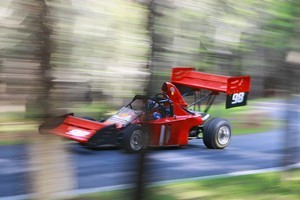 Rod Millen doesn't do things by halves.
The Kiwi motorsport legend used his 60th birthday as an excuse to run an invite-only hillclimb at his Hahei property last weekend, and showed just what several decades at the sharp end of hillclimbing and rallying can teach you.
His biggest undertaking was building a 1.6km stretch of road through the property - three years in the making, and featuring many corners that draw inspiration from his time in motorsport, including the challenging "Ws" from the Pikes Peak International Hillclimb in Colorado.
The road is wild and fast, and Millen owned it in the fire-breathing 670kW Toyota Celica that held the Pikes' record for 12 years in the face of competition from the likes of Suzuki's motorsport boss Nobuhiro "Monster" Tajima.
But last weekend was different - Millen had invited mates and family to his property with a view of potentially turning the so-called Leadfoot Festival into a Kiwi equivalent of the famed Goodwood Festival of Speed.
This meant guests dressed in period gear from the 1950s and 60s; there were mechanics in vintage overalls and a smattering of classic cars, including a silver Jaguar that drivers joked need to be timed by sundial.
A mix of vehicles leapt from ageing Formula Juniors and classic rally cars right through to Millen's toys - Celica, Tundra stadium truck, Hilux trophy truck, rare 4WD Mazda RX7 rally car and local Peak campaigner and rally personality Andrew Hawkeswood's Audi Group B replica and purpose-built Mitsubishi Evo.
The youthful side of the Millen family was represented by Millen's sons - Ryan, who contested the Taupo 1000 in a Toyota FJ Baja a few years ago, and Rhys, who has a world drift championship and Hollywood stunt credits for both Dukes of Hazzard and Fast and the Furious: Tokyo Drift.
American Jeff Zwart piloted a rare yellow Porsche 914-6 - the 914 itself is barely seen in New Zealand, let alone the much-lauded six-pot variant - and also had a run down the hill in a "gravity racer" built skunkworks-style by Millen in the United States.
One of the most impressive cars in the 24-strong field was Paul Dallenbach's former Pikes Peak hillclimb special. Dallenbach described Millen's course as "hard work - but fun".
While Millen has a vision for the Leadfoot Festival, at this stage it's all about testing the water. "This was the perfect chance to get out some of my old vehicles, and my good friends in their cars, and see what could happen," Millen said.
"There's a lot of work to do before we can look at taking it further."