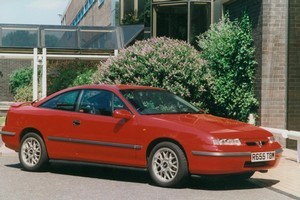 Vauxhall, the British arm of General Motors, is resurrecting the Calibra, its two-door from the 1990s.
"I believe we should have one, so we will have one," said GM Europe chief executive Nick Reilly.
As overall boss of Vauxhall and Opel, Reilly has the last word on what goes into production.
He pointed to the GTC (Gran Turismo Concept) coupe unveiled at the Geneva Motor Show in 2007 as the inspiration, saying: "It will be exactly this type of car."
That concept went on to become the Insignia sedan, which is likely to form the basis for the new sports machine. The Insignia was a European Car of the Year.
The GTC was powered by a 2.8-litre V6 turbo, and the VXR version of the production car could build on the 240kW of the hottest Insignia to create a cut-price version of Audi's S5 coupe.
However, it's expected that the smaller, mainly turbocharged units will offer a more appealing blend of economy and power, using Vauxhall's forthcoming range of all-new, direct-injection petrol engines that, according to Reilly, will give economy savings of "at least 10 to 15 per cent".
The Calibra had a big fanbase, with 250,000 sold around the world before it was axed in 1997. A few turned up in New Zealand.
Once again, the top-spec version of the four-seater is likely to come with four-wheel drive. Reilly also revealed that Vauxhall plans to use the Ampera name as a sub-brand to expand the number of range-extended battery vehicles.
"We're looking at other body styles, including a smaller Astra-sized car and a larger one," he said.
Using the same electric powertrain with the 1.4-litre generator, the new Ampera family models would be based on the second generation of the Chevrolet Volt in the United States.
The MkI launches in the United Kingdom in 2012. Also, the replacement Ampera will be far cheaper, according to Reilly.
"We will see a 50 per cent reduction in costs for the electrification part of the car, including batteries."