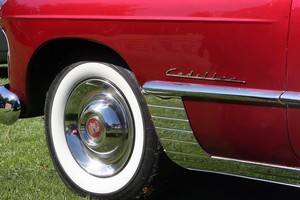 An all-American mix of rare muscle cars, good ol' boy wheels and classic Cadillacs goes under the hammer in Whangarei today. "Anyone with a true appreciation for American automotive history should find something to their liking," says Graham Roberts, CEO of auction house Turner's. The 29 cars are part of a deceased estate. The line-up includes Pontiac Trans-Ams, a Chrysler New Yorker, and a Rambler Rebel. There are also two AMC Matadors, like Sherriff Rosco P Coltraine used in The Dukes of Hazzard TV series. Boss Hogg's Cadillac is up for grabs, too. Or rather one like it.
Targa tourers on show
Triumph owners hold their annual get-together in St Heliers next Sunday. Pretty much everything Triumph will be on display, from two sedans that ran in the recent Targa tour to a line-up of TRs, GT6s, Spitfires and Stags. The cars will leave downtown Auckland at 9.30am and make their way along Tamaki Drive for the 10am-2.30pm show at Vellenoweth Green.
Driving age concerns
The debate over driving standards in New Zealand continues. The son of a fellow we know in Germany registered with a driving school six months after turning 16 and got his provisional driver's licence at age 17. A few weeks later the young fella picked up a speeding ticket on a suburban street. He reckons he was only 5km/h over the limit. Didn't matter - he had to do the written exam all over again. The learner-driver rules were clear: driving is a privilege, not a right. Urban limits in Germany are strictly enforced - the maximum speed is often 40km/h. The Good Oil has driven through towns where the limit is made very clear upon entry: 25km/h. Our mate's son qualified for his full licence at 18. Interestingly, Germany last year pulled the driving age back from 18 to 17.
Rocker's warehouse mishap
A fire in a warehouse that stored memorabilia belonging to Neil Young started in a vintage car the singer had converted into a hybrid vehicle. A fire chief in San Francisco said the fire began in Young's 1959 Lincoln Continental and spread to the nearby warehouse. Canadian Young had converted the car to run on batteries and a biodiesel-powered generator as part of his LincVolt project to create the world's most efficient full-size vehicle. Young says workers hope the car's computer will shed light on what caused the vehicle to go up in flames. Fire crews were able to save about 70 per cent of the warehouse's contents, including other cars and music equipment belonging to Young.
Boss spurns Merc to go green
Simon Empson is the managing director of British discount car website Broadspeed.com. He has a collection of personal cars, including a Ferrari, Bentley and British and French classics. His company car is a S-Class Mercedes-Benz, but it's not his day-to-day transport. He mostly uses a four-cylinder Kia hatchback, because it burns 70 per cent less fuel than the V8 Benz. "We have to start making some significant changes in our driving habits because of the environment," said Empson, 52. "In the new greener world, we will all have to learn how to drive fewer, shorter journeys, much more slowly. I have owned dozens of exotic cars over the years and now feel that the investment status many now possess will collapse," he said. "It's the end of an era."
We are the world
A woman and her husband were in a motorhome on a Florida motorway. He was driving, she was sitting at a table having a few drinks. Minutes later cars were flagging him down. His wife had gone to the loo, found the door was stuck and shouldered it open. But it was the motorhome's back door. She was flung out on to the road and badly injured. Police said "alcohol was involved".
alastair.sloane@nzherald.co.nz