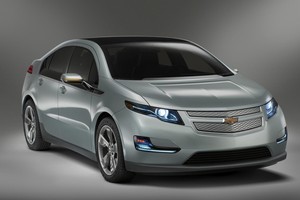 Giant global company General Electric will buy 25,000 plug-in hybrids and electric vehicles by 2015, almost half of them from General Motors.
GE says it will switch about 50 per cent of its 30,000 worldwide fleet to EVs and work with fleet customers to get 25,000 EVs up and running within five years.
It will buy 12,000 vehicles from GM, starting with the Chevrolet Volt plug-in hybrid next year and add other vehicles as carmakers expand their EV line-ups.
The news of a fleet contract for Volt is a boost for GM which is taking orders for the Volt-based Opel Ampera plug-in hybrid in Europe, which will go on sale next year.
GE said it was well placed to lead wide-scale EV adoption, considering it "owns one of the world's largest fleets, operates a leading global fleet management business, and offers a portfolio of product solutions including charging stations, circuit protection equipment and transformers that touch every part of electric vehicle infrastructure development".
The company has forecast the emerging EV market could deliver it up to US$500 million ($644 million) in revenue over the next three years.
GE chairman and CEO Jeff Immelt said: "Electric vehicle technology is real and ready for deployment and we are embracing the transformation with partners like GM and our fleet customers.
"By electrifying our own fleet, we will accelerate the adoption curve, drive scale, and move electric vehicles from anticipation to action.
"Wide-scale adoption of electric vehicles will also drive clean energy innovation, strengthen energy security and deliver economic value."
GM chief executive Dan Akerson said: "GE's commitment reflects confidence that electric vehicles are a real-world technology that can reduce both emissions and our dependence on oil.
"It is also a vote of confidence in the Chevrolet Volt, which we will begin delivering to retail customers by the end of this year.
"We are pleased that the Volt will play a major role in this programme, which will spur innovation and benefit our companies, our customers, and society as a whole."
A recent study by industry research company J D Power said there were significant obstacles to overcome before the mass introduction of plug-in hybrids and EVs. Things like range anxiety, support infrastructure, power and performance, it said.
But significant fleet contracts like the GE example will help drive down the price of EVs, encourage mass production and, significantly, will increase their visibility.
Chairman of the Washington-based Electrification Coalition of transportation and energy executives, Fred Smith, who is also the president and CEO of FedEx Corporation, said GE's move was good for the US economy and "good for our nation".
"With more than 16.3 million vehicles in operation in 2009, the nation's fleet can drive initial ramp-up scale in the battery industry and OEM supply chains," he said.
"By buying these vehicles, GE is helping ramp up production which will help lower the price of vehicles and their components and make electric vehicles more visible and acceptable to the public at large."
Toyota has announced it will unveil an all-electric RAV4 at the Los Angeles motor show this week, a project it developed with Tesla Motors.
Mitsubishi, which is testing its plug-in i-MiEV in New Zealand, will also use the LA show for to unveil its North American version of the i-MiEV, which is much larger than the model on show in New Zealand.
Other carmakers leading the EV charge include Nissan, with its EV, and its alliance partner Renault. BMW said its Megacity EV would begin production in Germany in 2013, while Volkswagen (including Audi), Mercedes-Benz, Ford and most other global car-makers are well advanced in bringing plug-in hybrids and/or EVs to market.