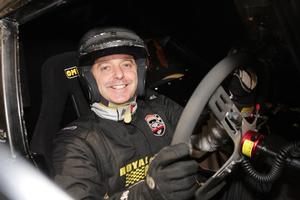 Neil Cunningham was born in Papakura and moved to Australia when he was seven. His cousin is Blyth Tait, the three-time Olympic Gold medal winner in three-day eventing. Despite racing in the UK for 26 years he still regards himself as a Kiwi and wants to retire to the Coromandel.
His motor racing CV is quite impressive winning the Indian Formula Ford title along with the British Eurocar V6 and British Marcos Manti championship.
He's raced at Bathurst, Spa, Le Mans, Sebring, in the Nurburgring 24Hour, FIA World Sportscar championships, the driver for James Bond in Quantum of Solace and has been a Jaguar test driver.
And that's just scratching the surface.
This is Cunningham's second year with the Top Gear Live stunt team and Superwheels asked him his thoughts of the global motoring circuit.
What's it like having to do your stunts in front of such large crowds?
I enjoy showing off.
Do you get bored doing the same thing time and time again?
Not at all, because there is always an element of danger.
What's the practice schedule and do you do it on foot first?
We rehearse for two weeks and walk it regularly - it's like line dancing.
How did you get into stunt driving and then on the TGL show?
I spent 25 years as a professional driver in Europe. One of the regular stunt drivers invited me on to TGL.
Had any major prangs and ever written a car off?
I've written off quite a few cars - the most expensive was a $229,000 Dodge Viper (it wasn't my fault!).
What's the worst injury you've sustained while doing a show and in practice?
I've never been injured - I'm too good.
Who comes up with the stunts?
The producer of TGL, Rowland French and Jeremy Clarkson.
What's been your favourite stunt car and the worst?
Favourite - my double-decker bus on the last tour. Worst - Honda Jet-i.
Have you ever run over one of the presenters by mistake?
Not yet because I keep missing.
How much fun is the soccer game in the cars?
Awesome! I scored for NZ last year.
Have you ever spoken to the Stig?
I introduced myself but there was no response.
If you could have any TGL car in your garage, which one would it be?
Z06 Corvette.
How long do the stunt cars last and are they any good after a show?
It depends who's driving.
Are you looking forward to teaching Kiwis a few stunt tricks?
I'm looking forward to them teaching me a few tricks.