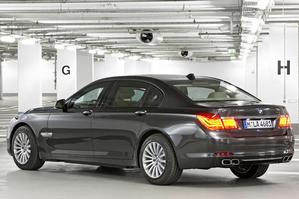 Shareholders getting restive? This BMW 7 Series High Security could be just the car for you.
The Security variant was developed in parallel to the standard car at BMW's Dingolfing, Bavaria plant. All the armoured panels are shaped to mimic the original components, and the chassis is rebuilt from scratch to tackle the huge increase in weight. Hence the reinforced suspension, stronger dampers and suspension strut top mountings. Those irritated shareholders will face armoured doors, roof, pillars and front footwell. There's armour behind the back seats, and every gap is sealed to keep shrapnel out. Even the undercarriage is armoured to resist explosions - yet the car looks identical to its standard siblings. But open a window and you'll give the game away.
This Beemer's multilayered laminated glass is 6cm thick, and coated on the inside by a polycarbonate layer to prevent particles of shattered glass from flying into the cabin.
Deploying your negotiating skills through that little lot might be tough; fortunately there's an intercom system with concealed microphone and speakers, which lets you talk to the restive mob without opening the doors or the windows.
In a gas attack, those windows and the air vents will close automatically, while an additional fresh air supply system keeps you alive. Your continuing longevity may further inflame the mob - luckily your car's inbuilt fire extinguisher quenches fires in the engine bay and below the vehicle.
By this time you may be getting fed-up with the plebs but rest assured, your BMW has one last insurgent-quelling feature up its sleeve. There's a gun compartment in the centre console that'll fit two machine guns.