Motocross sensation is set to return, writes Andy McGechan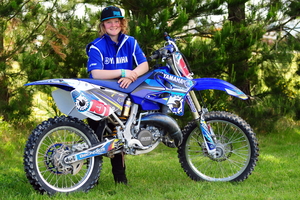 Otago's Courtney Duncan is one tough young woman and it's probably just a matter of weeks before she's again beating up the Kiwi boys.
The 17-year-old Yamaha rider from Palmerston, not far from Dunedin, made an immediate impact racing at the ultimate level of women's motocross in the US.
She swept both her races in her WMX (US Women's Motocross Championships) debut at the Hangtown Motocross Classic, the opening round of the US motocross nationals in Sacramento, California.
Duncan beat Japan's Sayaka Kaneshiro, who finished second overall with a 2-3 score, and Texas native Taylor Higgins, who rounded out the overall podium.
"The national championship round at Hangtown [California] went really well for me," said Duncan in classic understatement.
"I achieved a dream I've had since day one. To win my first Pro National in my debut is the best feeling in the world."
Sadly, the Yamaha ace came crashing back to earth days later.
"I broke my wrist in a training accident and that meant I had to skip round two," she said.
"It was also only just over two weeks away until the next big event for me, the Loretta Lynn's amateur national regional qualifiers, so I had surgery and a metal plate inserted and managed to get to the start line.
"I won both my races there, even though I still wasn't 100 per cent."
But then her US campaign took another turn for the worse.
She was storming into the first turn in her first women's class race at the Amateur National Motocross Championship at Loretta Lynn's ranch in Tennessee when another rider's clothing snagged on her front brake lever, locking her wheel. She was catapulted head-first into the ground and run over by several of the following riders.
Despite suffering concussion, Duncan managed to remount and claw her way forward from 42nd place to finish the race seventh, but that was the end of her big American adventure.
Now back home in Palmerston, she has not ridden since the accident.
"'I opted not to carry on in the United States," she said. "With a head injury you can't afford to risk it.
"I want to be around for a long time. There will be plenty more races coming up for me."
It was a disappointing way to end the trip, but she returned home with many fond memories to cherish.
"'When you are a little kid, you always dream of riding pro, or racing pro, so to win on debut [at Hangtown] was amazing."
Duncan is taking some time out after her concussion and intends to begin her next quest along that road early next year.
Whether she will return to the US or try her hand in Europe remains undecided.
"I'm still recovering from the knock to the head and I'm not quite ready to be back on a bike yet, but I definitely will be soon," she said.
With her stunning performances against the women's world elite in the US, there is little doubt that Duncan will soon be back on the pace and going quick enough to again beat the boys back home.
And beating up the males is just what she did in her last race meeting before heading overseas, when she won the opening round of the New Zealand Motocross Championships in Timaru in February.
Duncan has been racing against boys for many years - and more often than not winning - with her performance in the 85cc class at the Junior World Motocross Championships in Taupo in August 2009 one of her career highlights. She finished that weekend with a world ranking of No 6.
Her national and international status in the intervening years has continued to grow and her successes in the US this season point to more glittering prizes in the year ahead.