Paul Charman on that crazy era when opposing US and Japanese armies both rode Harleys out to battle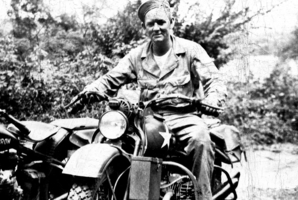 If you loved V-twins, New Zealand must have been ''Hog Heaven'' back in 1943.
Suddenly we had shiploads of US military Harley-Davidson motorcycles, swarming up and down Auckland's Queen St and Wellington's Lambton Quay. But by about 1945 they'd almost all vanished, taken home by our departing American allies.
The Marines and GIs were a hit with Kiwi girls, though the pleasure was often short-lived. Thousands of those ''handsome Yanks'', many barely in their twenties, got mowed
down in island battles from the Solomons to Iwo Jima.
The Imperial Japanese Army had Harleys too. It rode into Nanking and Manila on bikes made by the Rikuo Internal Combustion Company, which during the 1920s and 30s operated under the licence and name of Harley-Davidson. The obvious difference was that these troops had no intention of going home once their war was won.
In fact, Rikuo used Harley tooling until about 1958 and some of these big post-war twins still look pretty good.
Understandably, Harley-Davidson never publicised the fact that it helped Japan develop mass-production techniques just ahead of World War II, but its contribution to the Japanese war effort was epic.
The Society of Automotive Engineers of Japan rated the 1935 large Rikuo motorcycle as a landmark of Japanese automotive technology.
Following a trade war between Britain and America (about 1921) the British whacked American imports with a 33 per cent tariff, which denied Harley-Davidson access to
the British Empire, in particular one of its largest markets, Australia. The big US manufacturer was desperate for overseas sales and began to court Japan.
Also about that time, Japanese Government subsidies transformed motorcycle manufacturing from something done primarily by small workshops into a role for major
industries. But initially these didn't have great success.
With the Great Depression of 1929, Harley-Davidson was on the verge of bankruptcy and looked to rev up business in Japan.
Licensed copies of Harley-Davidsons started production in 1929 and by 1931 Dabittoson Harley Motorcycle Co Ltd was established.
Harley-Davidson man Alfred Rich Child shipped tooling and personnel to Japan from the mid-1930s to build HD VL flathead (sidevalve) bikes. But an increasingly militaristic Japanese Government eventually told Child to leave the country.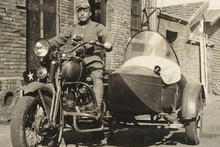 From 1933 bikes produced under licence included the iconic Type 97 model, for military use. About 18,000 were built from 1937 to 1942 and sidecar versions were used to invade and occupy Manchuria and the Philippines.
The Japanese Harleys were constantly developed and improved. Though I don't have any evidence for it, as a long-time fan of Japanese technology I'm tempted to believe
that they outshone the originals. Following the war, solo (750cc and 1200cc) machines were supplied to civilian police forces, still near-exact copies of 1934 Harley designs.
But Japan's industries, especially motorcycle manufacturing, would go on to far greater things.
Soon they had no need to copy outdated American designs, for example, soon they were building arguably the best motorcycles the world had ever seen.
Old Matchless `dispatched' the rest
During World War II Kiwi motorcycle dispatch riders coped with rough living conditions, a varying quality of motorcycle and gruelling day or night-long rides on rigid-frame bikes.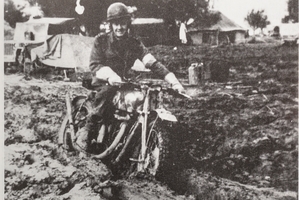 At night their way was lit by ''black-out'' headlights, barely brighter than the glow from a modern cellphone. The priority was avoiding the attention of enemy aircraft and if you crashed, tough.
''People think dispatch riders raced through shot and shell, with life-and-death messages, when all other means of communication had been cut,'' says motorcycle historian M.A. Bull. ''They did that occasionally, but mostly stuck to a schedule as a one-man mail train.''
Wellington signaller Leonard Harrington-Hutchings listed fatigue, dangerous traffic and those unsafe lights as his greatest enemies. In Bull's book, New Zealand's Motorcycle Heritage, Harrington-Hutchings describes how during 1940, stationed in Fiji, his routine
job was to ride a 16H Norton 500cc, ''with oil leaks gushing from the side-valve gear and the chain case soon worn through by chain flop''.
A few months later he was in Egypt, ''again issued with one of these terrible Nortons''. His job was to carry mail along 160km of sand track, beside the water pipes his section was laying.
''I think the seven miles (10 km) of road in Alexandria, stone and brick roads, with camels, goats, donkey carts, tram lines, Arabs and troops in blackout conditions was
something more than frightening.''
The moment he stepped off his bike it was liable to be pinched by locals or ''salvaged'' by his side. He recalled epic rides across the Western Desert, coming a gutser in
the sand, being shot at by sentries and many near collisions with Allied vehicles. His Norton was poor quality but it's worth recording how Harleys performed in the desert.
''The South African Army arrived by road, with big 1200cc Harley-Davidson police machines which were unable to ride in the sandy conditions. They asked me to go
over to their HQ and have a look at the problem. To cut a long story short, with a hand gear change and a foot clutch, you have had it.''
Later, posted to Italy, he was issued with an Indian bike so bad it had to be retired, then a well-used Matchless 350cc, with standard girder front forks. ''This machine was an absolute delight to ride, a friend with no vices. In all seasons in Italy it came up trumps.''
* The NZ Army no longer use motorcycles, though the SAS retains the option of doing so if required.