Hyperstrada was the standout bike at the Australian launch, writes Jacqui Madelin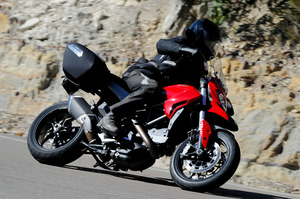 Flinging a series of Ducati thoroughbreds through Australian back-country swervery, there was no doubt the 1199 Panigale S was the weapon to take to the track.
With 143kW and 132Nm to shift just 188kg and rider, it's a two-wheeled weapon far more capable than I am. And you wouldn't argue with the Multistrada if an Auckland-to-Wellington trip looms.
But it was the two smaller machines we kept returning to, the racier journos arguing over the 659 LAMS learner-approved Monster for its agility and the fun to be wrung from making the most of it, and those familiar with dirt bikes and their ilk quietly impressed with this Hyperstrada.
It's a new model, with an 821cc Testastretta motor that's likely to appear in other bikes, a shorter wheelbase than its Hypermotard siblings, and a character all its own that very much underlines it's not merely a Multistrada that shrank in the wash.
First impressions are of a supermotard, with the slim waist, the high seat and wide bars and that purposeful, almost upright riding position, which encourages you to crouch over the front and wrestle it around the scenery as you would a dirt bike, making the most of the relatively light, 204kg weight and commanding riding position to tip it deep into bends with a vigour only encouraged by the compliant suspension's ability to shrug off undulations and acne-pitted tarmac.
And then there's the motor wedged into that steel trellis frame.
It may not deliver the raw testosterone hit of a Ducati 1100 on song, but there's plenty of character to the twin-cylinder note. There's no missing this is a Ducati, and another in the line-up tuned for low- and mid-range power to punch you out of corners, with a strong seam of urge Hyperstrada loves back roads through the 7750rpm at which the 89Nm torque hit arrives and up to the 9250rpm 81kW peak.
Given its focus on riders wanting a flexible machine, the Hyperstrada is also fitted with Ducati's Riding Modes system with Sport, Touring and Urban settings. Sport delivers the full 81kW, sharper throttle response and the minimum of traction control and ABS intervention.
Touring serves the same power, with softer throttle response and earlier intervention by the braking and traction aids. And there's Urban for round town - with its white lines and wet manhole covers - or damp and slick surfaces, to cut power to 56kW and increase braking and traction response.
You can flick between them on the move via a switch on the left-hand bar, instantly responding to changing conditions without having to stop, or even slow down; good stuff, and especially valuable in built-up areas where that diesel slick or idiot driver can challenge even the fastest reflexes.
It's tempting to think of this as just another supermotard, but there's more to it - as indicated by the small but effective screen, the fact it's already prewired for heated grips, and that the $22,490 bike comes standard with these nicely-designed panniers, which carry 50 litres, and attach or disengage easily to double as briefcases during the daily commute or as overnight bags.
For unlike the dirt bikes it superficially resembles, this Hyperstrada has the legs, and the relative riding comfort, to tackle touring if required while giving its best over the sort of bendy back roads at which New Zealand excels.
Ironically, given its relatively high 850mm seat (there's a lower one in the accessories catalogue), it's less at home to really tall riders who may find the stepped seat forces them too close to the tank - easily fixed by choosing the flatter, touring version.
Oh, and I don't like digital speedos as they can be hard to read in strong sun.
Ducati Australia chief Warren Lee expects the 659 to head sales with the Hyperstrada attracting 10 to 12 per cent of buyers in New Zealand, snaring those coming off big dirt bikes and wanting a bit more comfort without losing back-roads agility.