Yamaha's FJR is no couch slouch, writes Jacqui Madelin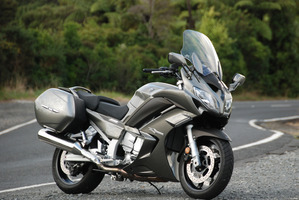 This may not be New Zealand's fastest armchair but by golly it feels it; the capacious seat and barn-door screen imparting sheepskin-slipper-and-couch cosiness that lasts until you open the throttle, when it'll catapult you, your snacks and knitting into next week.
The Yamaha FJR has a 1.3-litre parallel four tucked beneath the swoopy skin with the power of a 1.8-litre Corolla at a quarter the weight, and that makes this thing a bit of a weapon even in Touring mode. Select ''Sport'' instead to hold the revs, and impart an engine whine like a jump jet spooling up as power smacks down via that single rear wheel.
Which means you can cruise in cossetted comfort, then step the rear out at the twitch of a wrist. That is, if the stability control doesn't persist in reining you in ... Yep, this bike's a bit schizoid at times.
It's had a tune-up for 2013 with new fully adjustable forks up front, a stronger rear shock to accommodate your sweetheart's expanding waistline, a new dash, and subtle tweaking to the chassis, bodywork and engine, the latter including some mods to the exhaust and throttle plus a new twin-spark head; the result is a smidge more torque, not that it needed it.
That stability control works on the ignition timing, fuel injection and throttle opening to cut drive when slip's detected and it's super-quick and so unobtrusive you'll
put the save down to your own lightning-fast reflexes; bonus.
Given this Yamaha's no slouch it may be lucky it handles well; my rural hilly commute a bumpy affair with tight bends best suited to super-motards than the two-wheeled equivalent of a GT. But the FJR impressed here too. Sure, you need a bit of body English for a quick left-right flick and the adjustable suspension's response was sometimes a tad softer than expected to suit its touring focus.
But it remained controlled, and as agile as many a more focused machine assisted by a willingness to tip far further into bends than I'm game to try, and haul out of them
with a joi de vivre you expect from a sports bike, all while keeping your mitts warm, your butt cossetted and your helmet protected behind that adjustable-height screen- press a
button to lift or lower it on the move.
There's even cruise control at speeds between 50 and 180km/h; easy to set and adjust while riding, and useful on our speed-enforced highways.
As for practicality, there's a handy pocket up front for your cell or sunnies, and three settings for those heated grips. The integrated lockable panniers will carry 30 litres; load them and a passenger then readjust the headlight angle via a pair of fork-top dials, before checking range remaining via the multi-function digital dash, info accessed via handlebar-mounted switches.
I averaged 7.1l/100km of fuel during my fang-happy test stint, a figure no hard-driven performance car could match, though it could be better, the five-speed transmission needing another gear for open-road touring.
Meanwhile, tall folk can set the seat height higher, though my attenuated legs - combined with the bike's generous girt - meant I kept it at the lowest setting to
aid stability when I stopped. You certainly notice this FJR's size and 289kg heft if you're pushing it round the garage, especially if the 25-litre tank is full. But otherwise it's so well balanced it feels smaller than it is, instantly imparting the confidence you need for U-turns and tricky parking manoeuvres.
Not that you spend $26,999 on a tourer that'll show sports bikes a clean set of heels if you're planning to sit about drinking coffee, though the FJR will certainly cope with the caffeine-induced mania that could result ...