Injuries push him to retire, writes Andy McGechan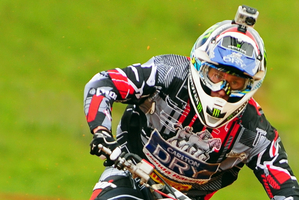 It's all over for New Zealand's Ben Townley. For a brief time, the only noise that could be heard at the national motocross championship finale in Taupo over Easter Weekend was that of a spanner dropping back into its toolbox.
A stunned silence fell over the venue as the circuit commentator interviewed Kiwi sports hero Townley ... the 28-year-old former world and New Zealand champion was announcing his sudden, shock retirement from the sport.
After a glittering 12-year international career that began in 2001 and yielded an MX2 Motocross World Championship title in 2004, a Supercross Lites East Coast title in the USA in 2007, back-to-back title wins at the NZ Motocross Grand Prix at Woodville in 2012 and 2013 and the national MX1 title last season, the Bay of Plenty rider stunned the large crowd at his hometown track with the revelation that he was retiring from full-time racing, that decision effective immediately.
Following the latest in a series of injuries that have frustrated Townley and caused the stop-start nature of his career, Townley decided "enough was enough".
"I've only smacked my head once previous to this latest spill, but it made me re-evaluate things. I believe concussion is taken too lightly in this sport anyway. But, with so many injuries, I was just sick and tired of the direction my career was taking. I told my Carlton Dry Honda team that I can't deliver the championships I promised them while I'm injured and, after this last fall, I realised I needed to take time off to fully recover.
"I left school when I was 16 and have been racing a long time now. It was a very hard decision to make and I have thought long and hard about it this week. I think it is the right decision," he said.
"Honda in New Zealand and Australia have been excellent and I'd love to continue my relationship with them. But, as to where I go from here ... I'm not going anywhere fast, to be honest. I want to do something completely different with my life now, with my wife and our two boys."
Townley's remarkable journey began when the then-16-year-old left Taupo in 2001 to take on the world in the fiery motocross cauldron of Europe. He spent the next five years there, winning the MX2 (250cc) world title in 2004 then finishing third in his debut season in the MX1 class in 2005.
Soon afterwards he shifted to the United States and, in 2007, stunned the world's best supercross racers when he won the East Coast Lites (MX2) title and finished an agonisingly close runner-up in the American MX2 motocross championships that same season.
"While I am retiring from full-time competition, I will still ride and race at selected events. One thing I have never done, which I'd like to try, is racing the annual Tarawera 100 (cross-country endurance race, near Kawerau). Perhaps I'll race that.
"Although I am retiring from full-time competition, I am not walking away from the sport. I love motocross and understand and accept that we can get injured. I am only 28 years old and I believe I still have a lot I can give the sport."