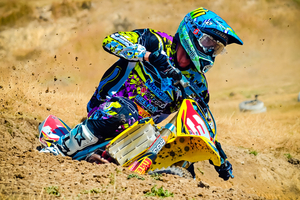 Time is running out for the title challengers to step up. Kiwi internationals Cody Cooper and Scotty Columb have vice-like grips on two out of three championship classes as the New Zealand Motocross Championships head to Harrisville, near Pukekohe, on Sunday for the penultimate round.
Harrisville could certainly be the battleground that decides the war, with the four-round series ready to edge past the halfway mark.
Mount Maunganui's Cooper (Moto City Suzuki RM-Z450) is 20 points clear at the top of the MX1 class standings after the second of four rounds in this season's championship series at Patetonga, near Morrinsville, just over a week ago and it will now take a superhuman effort to knock him off the top spot.
Cooper has been single-handedly keeping the overseas invaders at bay as a trio of international stars - Scottish former Grand Prix rider Billy MacKenzie (JCR Yamaha Racing Yamaha YZ450F) and Australian pair Todd Waters and Kirk Gibbs (Both Motorex KTM) - nip at his rear wheel, but the invasion forces will need to fire up their big artillery on Sunday if they want to snatch the Kiwi silverware.
MacKenzie is second in the standings and the two Australians third and fourth, while in fifth position is the next best of the Kiwi contingent, former national motocross and supercross champion Daryl Hurley (Action Suzuki RM-Z450), of Hawera.
Meanwhile, Queenstown's Columb (JCR Yamaha Racing YZ250F) leads the MX2 (250cc) class by a solid 16 points from Australian visitor Brock Winston (CMR Red Bull KTM 250SX).
If he can withstand the pressure, this could be a breakthrough year for Columb - after many years of trying, the Kiwi international's fresh partnership with Yamaha and with old friend Josh Coppins could finally see him claim his first national motocross title.
Columb, 29, came close to winning the MX2 title last season but had to settle for No2 when it was won by evergreen Hamilton rider Darryll King (Fox DC Fuzion Yamaha YZ250).
Columb joined the Coppins-managed JCR Yamaha Racing team during the off-season and since then has enjoyed a sparkling run.
He won the first of four rounds of the New Zealand Motocross Championships at Timaru last month, finishing 1-2-1 in his three MX2 class races that day, and he backed that up by finishing 4-1-4 at round two at Patetonga.
"Scotty hurt his thumb just the week before Patetonga, wrenched it quite badly, and we had to get a special brace built for his right hand," said Coppins. "He rode brilliantly, especially considering that he was hurt ... I really didn't think he'd be able to ride at all."
Columb knows Winston will be hunting him down at Harrisville, while the third-ranked rider, Mount Maunganui's Rhys Carter (Moto City Suzuki RM-Z250), will also fancy his chances, although he is 15 points further back.
The biggest mover at Patetonga was Waitakere's Ethan Martens (Yamaha YZ250). Martens finished 3-2-1 in his three MX2 races and rocketed up eight spots after round one to be fourth in the rankings.
A third member of the JCR Yamaha Racing squad, Rotorua's Cameron Vaughan (YZ125), narrowly leads the 125cc championship from Bayride BikesportNZ.com Yamaha ace Logan Blackburn, of Te Puke, and Tauranga's Aaron Wiltshier (KTM 125).
Racing at Harrisville on Sunday begins at 10am. The series wraps up in Taupo on March 31.