Townley favourite in showdownAn strong line-up of internationals will fight it out at Woodville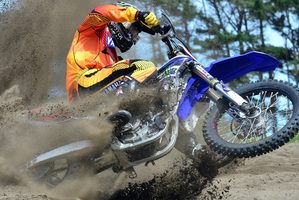 Kiwi international Ben Townley (Carlton Dry Honda) has the Woodville crown firmly in his sights.
It is just a week away now to the "greatest show on turf" the biggest dirt bike race in the Southern Hemisphere the annual New Zealand Motocross Grand Prix at Woodville.
This year's 52nd running of the big Honda-sponsored event, on the weekend of January 26 and 27, is set to be another superstar showdown.
British GP rider Alex Snow has arrived to make his Woodville motocross debut and he'll be joined by countryman Jake Nicholls, with Australian high-fliers Todd Waters, Kirk Gibbs and Jesse Dobson to arrive soon for their Woodville debuts.
But, even with international riders flying in, last season's Woodville winner, Bay of Plenty international Ben Townley (Carlton Dry Honda), remains the clear favourite. Former world and United States champion Townley dominated the main class at Woodville last year and has been in hot form lately, winning the Whakatane Summercross _ scoring an impressive four wins from four starts in the premier MX1 class.
As well as riders such as Snow (JCR Yamaha Racing), Waters (KTM Australia) and Gibbs (KTM Australia), Townley will be up against an impressive array of other Kiwi internationals, experienced campaigners such as multi-time former New Zealand motocross champion Cody Cooper (Moto City Suzuki), of Mount Maunganui, 2009 MX1 champion and 2010 Woodville winner Justin McDonald (Timaru Honda), of Christchurch, and Rotorua's Michael Phillips (Rowlinson Honda). Manawatu riders Tom Hughes (AFC Motorcycles KTM) and Jesse Donnelly (Precise Print Suzuki) also rate as potential threats in the MX1 class.
Nicholls (KTM) and Dobson (Kawasaki) are entered in the MX2 (250cc) class, where they will face New Zealand MX2 champion Darryll King (Fox DC Fuzion Yamaha), who is also the veteran's world champion, and fellow Kiwi internationals Rhys Carter (Moto City Suzuki), of Mount Maunganui, Queenstown's Scotty Columb (JCR Yamaha Racing) and Mangakino's Kayne Lamont (CMR Red Bull BikesportNZ.com KTM).
Townley has only raced at Woodville a couple of times in 10 years but he dominated the event last season and said he was looking forward to being there again.
Woodville is one of the biggest events on the Kiwi calendar and it will be an ideal build-up for Townley ahead of the New Zealand Motocross Championships, which start near Timaru on February 10, and then his Australian national series campaign that follows.
Since the stand-alone event was first staged half a century ago, in 1961, the Woodville Motocross has grown to become the jewel in New Zealand's motocross crown and hundreds of riders will battle over the weekend, including minis, juniors, seniors, women and veterans.
The famous Woodville river race is a huge sideline attraction, a race likely to be dominated by Pahiatua international Paul Whibley (Sargents BikesportNZ.com Yamaha), who is home for a break from his American adventures.
Whibley won two major cross-country championships in the United States last year and returns to begin his double title defence in just a few weeks' time.
The long and illustrious list of previous winners at Woodville includes 1996 500cc motocross world champion Shayne King, Australian champion Craig Dack, Britain's Greg Hanson, American Willie Surratt and Sweden's Gunnar Lindstrom.
But Townley is the name tipped to be etched on the trophy again this season.