After a frenetic Auckland-Taranaki trip, Paul Charman has only praise for the Nissan Juke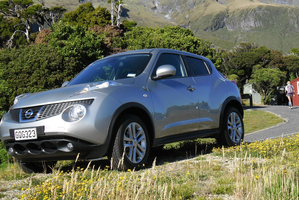 Eight hundred - and rising - kilometres from Auckland to Taranaki for a long weekend. Yep, that would be a perfect way to test the Nissan Juke as a holiday car, we decided.
Luggage-wise, our grey five-door hatch, with its edgy looks, was a squeeze but the nice handling and highly economical Juke left a good taste.
And any criticism of luggage space must be tempered by confessing certain unreasonable demands. Our load included tramping and cycling gear; numerous changes of attire for news interviews and sightseeing; food for four days; lots of boy scout-type safety gear, which is something I like to travel with; camera equipment and footwear sufficient to embarrass Ferdinand and Imelda Marcos. This lot filled both boot and back seat space, but no matter. The cabin space up front was big and roomy and anything that trickled into it quickly got pushed backwards.
My photographer wife and I achieved fuel economy just under the hoped-for 6.3 litres per 100 kilometres Nissan had told us to expect. This result was enhanced by avoiding the car's grunty sports setting, which - if used - will apparently lower fuel economy drastically.
But the Juke's driveability left a great taste. Road visibility is excellent and while performance (mainly in economy) wasn't stupendous, it really handled. So steady and true is the Juke on any kind of road - but especially windy bits such as through the Awakino Gorge and over Mt Messenger - that it tangibly reduces driver fatigue.
With a climb up Mt Taranaki scheduled, plus numerous appointments, there seemed to be plenty of that on our trip. And the super-mini with distinctive 4X4 looks was up for every minute of it.
At Tikorangi, just north of New Plymouth, we met longtime resident Abbie Jury, who showed us some of the 83 oil wells which have been - or are likely to be - drilled to look for gas and condensate. Exploration has been on here since 1961, but it's gathering pace and with truckloads of allegedly toxic chemicals, noise and gas flaring, residents complain it's "beyond a fracking joke".
After Tikorangi we drove up North Egmont to spend the night at a wonderful communal mountain hut called The Camphouse, where we stayed ahead of the Open Climb.
This event, hosted by the Alpine Club over the last 80 years, has guided thousands of amateur climbers up and down the mountain in near perfect safety. Professional adventure tourism operators could perhaps note no climber has been lost or seriously injured in that time.
We slogged it out a mere third of the way, to Tahurangi Lodge, from where we sent out a press release on the day. I'd summited in 2006, but with little pre-training this year I'd soon had it, shuffling back down the mountain like Ozzy Osbourne. Outstanding views taking in Ruapehu, Ngauruhoe and Tongariro made it all worthwhile.
Once safely in New Plymouth we stayed at the Bella Vista Motel, which supplies free bicycles with your room. This is a wonderful perk, as it would be sad to visit New Plymouth without cycling its famous coastal walkway.
The next day it was back to North Egmont for some photos of the car, a dip at the aquatic centre and a bike ride.
Then it was off to see New Plymouth's car-loving Mayor Harry Duynhoven, who explained how much the oil industry had done for his town. Harry came out to see the Juke too, but told us in no uncertain terms he'd be sticking with his Skoda. We also met a Todd Energy drilling superintendent who has made a career out of the oil industry. The former South Taranaki boy worked his way up from labourer to a highly paid position. His story seemed a vivid demonstration of how - despite all the growing pains - the oil industry brings prosperity to this region. Day four dawned too soon, with just time enough to walk round Pukekura Park before heading home.
Surely Taranaki is one of the best North Island destinations to visit for a few days. And a well-handling car like the Juke, with all the latest driving technology, is the way to go.