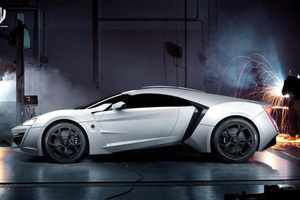 The oil-rich Middle East is one of the world's top markets for exotic cars, but soon buyers won't have to see their oil earnings slipping offshore.
Unveiled at the recent Qatar Motor Show was a pair of home-grown supercars, the W Motors Hypersport and Supersport.
The Hypersport has a twin-turbo flat-six generating about 560kW and 1000Nm of torque. The mid-mounted engine propels the car to a top speed of nearly 400km/h.
The builder has taken more than 100 orders for the two-seater that will initially be assembled in Italy beforegoing to a Mideast factory.
Pricing: Not much more than petty cash, really; about $4 million for a Hypersport.

`I'll park where I like'
The driver of a Mercedes-Benz S-Class moved some barriers to park in one of the empty spots at the parking lot for Edinburgh's Waverley railway station.
Part of the lot had been closed for resurfacing.
Rather than having the vehicle towed, the crew simply tore up the asphalt, leaving just the one parking spot intact. They thoughtfully built a little ramp so the car could get off its blacktop pedestal.

Spare part treasures
New Lynn Lions have been holding their classic and vintage car show including a swap
meet for 15 years, raising money for a different charity each year. This year, the Lions (and old cars and old car parts) are at Western Springs Stadium from 10am tomorrow with all profit going to Kids with Arthritis.
''It is a great show and a day out for all the family. There will be over 800 great show cars from just out of the shed to totally restored,'' says Noel Mountjoy, of Lions New Lynn. ''It's also a great swap-meet for enthusiasts to find those difficult parts.''
Tickets for kids will be $5, adults $12 and the Lions will be adding to the $160,000 they've already raised over the years.

It's not just about the truck
American pickup truck maker Ram evidently figures that horny hunters comprise a key buyer group.
So its running an Internet video hunting series called Gear Up!, hosted by a variety of attractive women dressed in camouflage.
One episode gives instructions on how to gut a deer. Megan, the episode's perky host, provides detailed tips in a cheerful tone. Sometimes a bit too detailed, like:
''Begin sliding your knife up the deer's belly towards its neck [and] sever the final tubes of the rectum.''

Parking up
Part of the Down Under launch of Nissan's limo-like Patrol SUV was at Canunda National Park on the South Australia coast.
The news here is that while our Department of Conservation goes out of its way to ban 4WD vehicles from most of its considerable park estate, the Aussies welcome them.
The only admonition at Canunda was a sign asking drivers to stay on the tracks.
No problem there.
The park, which is licked by the Southern Ocean, is awash with great tracks and good beach access points.

We are the world
*Some Japanese men have rejected smartphones in favour of a low-tech 2002 Fujitsu cellphone because it can help philanderers keep their affairs confidential. The phone has a buried ''privacy'' mode that gives off only stealth signals when lovers call and leaves no
trace of calls, texts or emails. A senior executive for Fujitsu said, ''If Tiger Woods had this phone, he wouldn't have been in trouble.''
*China's national legislature passed a law to establish that people have a duty to visit their aged parents. Nursing homes and similar facilities have not kept pace with the country's rapid urbanisation and sponsors of the law said it would give parents a legal right to sue their children for ignoring them.
*A pastor was forced to admit to his flock at the New Heart church in rural Texas that he was a convicted sex offender and that he and his ex-wife had worked in the pornography
industry. ''If we believe in the redemptive work of Christ, then this man is a miracle,'' said one parishioner.
*Tokyo's Kenichi Ito beat his own Guinness World Record of 17.47s by a full second for the 100m dash on all fours. Ito runs like a Patas monkey, which he has long admired, and which inspired him to take up four-legged running.

Number Crunching
7397 Used-import cars sold in NZ in January
429 Used-import commercials sold in NZ in January
12 More used import cars sold in January than new cars.
717 Motorcycles sold in NZ in January