GP3 champion takes to track before heading to Europe for GP2 assault.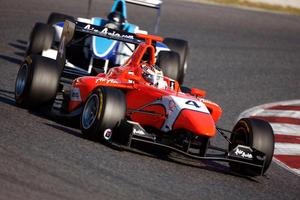 This year's Toyota Racing Series is shaping to be the best.
Just 100 points separate the top seven drivers.
There have been five different winners spread over the last three rounds, and despite defending champion New Zealander Nick Cassidy leading the series by six points, there has yet to be a Kiwi winner.
Things might just change this weekend at Hampton Downs as the field is being bolstered by the addition of a fourth Kiwi racer to the 18-car field to complement Cassidy, Damon Leitch and Michael Scott
Two-time former TRS champion, and GP3 champion, Mitch Evans is having a bit of a yahoo to get a few race kilometres under his belt before heading off to Europe for his assault on the GP2 championship.
It's been a while since Evans has been in a TRS car and a good four months since he nailed his GP3 title. The rest of the field had better not rest on their laurels, though, and disregard Evans as a threat just because they've had nine races in three weeks.
Last year, Evans raced only two rounds, winning twice, finishing second twice and was leading the New Zealand Grand Prix when he was sidelined with an electrical fault.
"I wasn't going to do anything [in New Zealand] but the opportunity came about and my New Zealand sponsors (Wet and Forget, Giltrap City Toyota, Skinny Mobile, and the Mad Butcher) were keen for me to race at home before I head back to Europe," said Evans.
"I was super keen to do it anyway and after getting clearance from my management [Mark Webber] and new team [Arden] here I am.
"It's good race experience. Obviously the cars are very different but the competition is pretty high and it's all about race mileage.
"It's good to get into that environment of tyres, race starts, racing other guys, race craft and stuff before I get to Malaysia [first round of GP2 as support to opening F1 race]."
The three races at Hampton Downs culminate tomorrow with the 20-lap feature race for the New Zealand Motor Cup.
This famous trophy has been won by some of the world's most famous racing drivers, some pre-dating the 1960s Tasman Series era.
Evans will race for Stephen Giles Motorsport, which is the same team he won back-to-back TRS titles with in 2010 and 2011 and the New Zealand Grand Prix at Manfeild in 2011.
"Last year and even the year before I had good battles with Nick [Cassidy]. It's good to come back and continue the rivalry.
"Nick and I have had some good races against each other in TRS so I'm looking forward to lining up against him as well as all of the fast international drivers this weekend.
"The New Zealand Motor Cup holds a special place in New Zealand motor racing history. It's good to be kicking off my racing year in Auckland because this is home," said Evans.
He already has his name on the New Zealand Motor Cup, having won it in 2011 and finished a close second to Cassidy last year.
Evans and Cassidy won't have it all their own way, though. Brit Alex Lynn has won three of the last four races, and bar a mistake at Taupo in race two would have made a clean sweep of the weekend.
Austrian Lucas Auer has matured in the past year and has coupled his evident speed with race craft keeping his car on the black stuff this year. He has finished outside the top five only once in nine races and sits second on the championship table.
Rounding out the top three is Felix Serralles who, while still in the hunt with two wins, may just come to regret a less than productive weekend at Taupo.
A youngster to watch this weekend is Steijn Schothorst, from the Netherlands, who has steadily improved over the past three weeks and looks good for his first win.
TRS points
Points after round three
1 Nick Cassidy New Zealand 517
2 Lucas Auer Austria 511
3 Felix Serralles Puerto Rico 477
4 Alex Lynn UK 471
5 Stejin Schothorst Netherlands 451
6 Bruno Bonifacio Brazil 448.