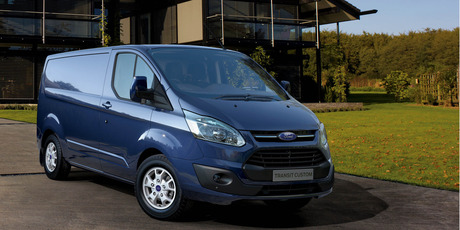 The all-new Ford Transit Custom van was unveiled in Britain this week, with the carmaker claiming it brings new levels of style, driver appeal and functionality to the one-tonne commercial vehicle market.
Representing a completely new generation of Ford one-tonne vehicles, the Transit Custom marks a major step in Ford's commitment to refreshing its entire commercial vehicle line-up by 2014 and targeting an expanded share of the segment.
It says the new model combines class-leading load-carrying ability - with best-in-class fuel economy.
"The Transit Custom is a completely new kind of one-tonne vehicle from Ford," said Jesus Alonso, commercial vehicle director for Ford of Europe.
"This is a stylish, modern van which customers will be proud to have on their driveway, while losing none of the hard-working attitude that they expect from a Transit.
"The launch of this new range marks the start of a far-reaching transformation of Ford's global commercial vehicle range.
"With more new models set to be revealed in the coming months, 2012 is destined to be a very exciting year for our commercial vehicle business."
With a full range of van, kombi, and double-cab-in-van models, the new Transit Custom will go on sale later this year in Europe as well as in other markets, apart from the United States.
Ford says the van's bold new exterior embodies the same dynamic character as Ford's kinetic design passenger cars.
"Customers want their vehicle to project a modern and professional image, and the new Transit Custom does not disappoint," said Paul Campbell, chief designer, Ford of Europe.
"We have given the vehicle a stylish, modern appearance which will be appreciated by businesses of all sizes.
It's still a Transit, so the superbly practical loadspace is a given, but with its sportier stance and bold rising shoulder line, the Transit Custom makes a powerful new impact."
Signature kinetic design features help to give the Transit Custom its unique character, including the bold trapezoidal grille, strong and muscular shoulder line and prominent wheel lips.
From launch, the Transit Custom will offer a choice of short wheelbase (SWB - overall length 4.97m) and long wheelbase (LWB - overall length 5.34m) versions, so that customers can select the amount of load space which best suits their business.
The load area of the Transit Custom has been carefully optimised to offer more space and more convenience than any of its rivals, says Ford.
Key features and innovations include:
Optimised bulkhead and loadspace design enables the SWB model to carry three Euro pallets loaded to at least one metre high
Load-through hatch in the bulkhead enables loads up to 3m in length, such as pipes or ladders
Class-leading width between wheel arches allows wide loads, such as 2.4m x 1.2m boards to be easily accommodated flat on the floor (or stored vertically, if required)
Class-leading height and width of sliding side load doors for ease of loading
The integrated roof rack system, which is seamlessly integrated into the roof, can be deployed when required. When not being uses, its cross bars can be quickly folded down, reducing drag on the vehicle and fuel consumption, as well as keeping its height under two metres (with the exception of the 330 series)
Repositioned tie-down hooks and fixing points located on the body sides, leave the floor clear for easier loading and cleaning
Easy-clean load floor liner offers enhanced durability and simple cleaning
To provide customers with a wide range of payload options from 600-1400kg, Transit Custom is available with multiple GVM options.
"This may be a more stylish Transit, but it's a more functional Transit, too," says Barry Gale, commercial vehicles chief engineer, Ford of Europe.
"The additional features we have built into the load space make everyday functions more convenient - so it's easier for customers to do their job."
Low running costs start with the class-leading fuel economy, delivered by an improved version of Ford's 2.2-litre Duratorq TDCi diesel engine.
Available in 75kW, 95kW and 115kW power ratings, this power unit now features Start-Stop as standard and enables fuel consumption of 6.6 litres/100km, 42.8mpg, and 174g/km CO2 emissions - a reduction of as much as 8 per cent on the equivalent current Transit.